With a global pandemic, chip shortages, and a crypto mining boom driving up prices, it was a dark time for PC gaming - and something we were hoping was in the rear-view mirror. We know how hard it was to try and find a GeForce RTX 3080 when the card debuted in 2020, let alone one at a reasonable price. This makes some of the reporting we see in the tech landscape a little concerning.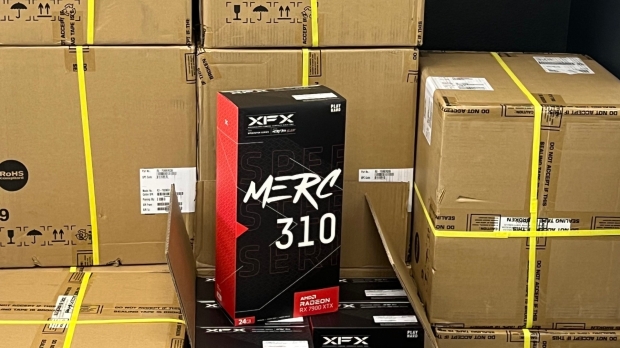 Our friends over at Tom's Hardware and Wccftech cited a Tweet from Comma AI CEO and entrepreneur George Hotz saying, "7.38 PFLOPS of computing was delivered today" alongside an image of several boxes filled with AMD Radeon RX 7900 XTX GPUs - specifically XFX MERC 310 variants.
In conclusion, AI companies could be snapping up gaming GPUs to meet the insane demand for AI chips.
The 7.38 PFLOPS number is based on the FP16 performance of the Radeon RX 7900 XTX across 60 GPUs, where no doubt the card's 20GB of VRAM also factored into the purchase due to AI tasks being memory hungry. Of course, this is a single example, but NVIDIA is selling AI hardware faster than it can produce them - an AI-based shortage for GPUs is not outside the realm of possibility.
There are also reports of companies in China looking to consumer GPUs for AI due to shortages and restrictions, so some evidence points to a potential AI boom eating into the PC gaming space. Cue the classic The Godfather Part III meme. More troubling is that the Tweet from George Hotz adds that there "exaflops more to come," which would represent an insane volume of Radeon RX 7900 XTX stock from a single source.
And in a weird turn, AI's dependence on memory could mean that cards like the GeForce RTX 4070 with 12GB of VRAM and GeForce RTX 4080 with 16GB of VRAM - which, based on raw FP16 performance, look like better options - could be seen as unattractive for AI tasks compared to something like the 24GB Radeon RX 7900 XTX.