A team of astronomers has imaged a comet that's slowly on its way to approaching Earth, and on its way, it experienced an eruption.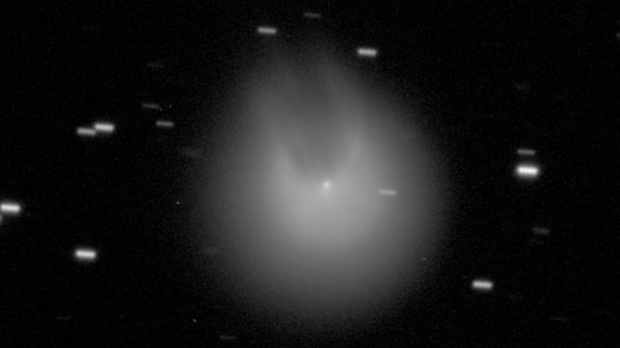 The comet is called 12P/Pons-Brooks and is classified as a cold volcano comet. Much like other comets 12P/Pons-Brooks has a solid nucleus that's comprised of a mixture of ice, dust, and gas. This mixture is slowly expelled out the comet's exterior, resulting in a cloud forming around the comet as well as the iconic comet's tail. However, 12P/Pons-Brooks (12P) is slightly different compared to other comets as its interior mixture has the chance to explode violently, which causes its frozen insides, or cryomagma, to leak out of the nucleus's shell.
Such an explosion was detected by astronomers on July 20 when 12P/Pons-Brooks suddenly became 100 times brighter than it usually appears to be. This increase in brightness can be attributed to a swelling of gas around the comet, which reflected more sunlight. On July 26, the coma of 12P/Pons-Brooks stretched some 143,000 miles, or 7,000 times wide than the comet's nucleus, which is estimated to be about 18.6 miles across.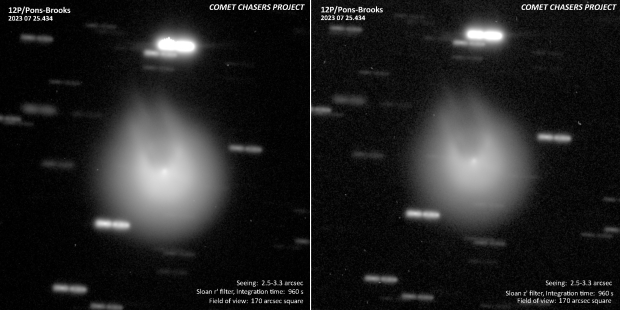 What's puzzling scientists is the unusual shape that 12P/Pons-Brooks has converted into, as it appears the comet now has horns. According to Richard Miles, an astronomer with the British Astronomical Association who studies cryovolcanic comets, the strange shape can be attributed to an already irregularly shaped nucleus. This eruption is the first recorded for the comet in 69 years.
12P/Pons-Brooks is expected to make its closest approach to Earth on June 2, 2024, when it will be visible in the night sky.