Intel demonstrates mainstream SSDs
solid-state is the future.
Published Apr 3, 2008 5:47 AM CDT
|
Updated Tue, Nov 3 2020 12:38 PM CST
One of the more interesting products to show up at the Intel Developer Forum in Shanghai this week is clear sign that Intel are shooting for a big piece of the solid-state storage market with some pre-production
SSD drives demonstrated
.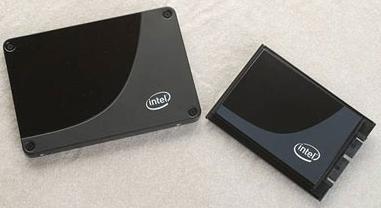 A fellow by the name of Knut Grimsrud who leads an R&D group responsible for the development of innovative mainstream storage solutions has had some playtime with these upcoming drives in current form, and has kindly shared his thoughts about them with everyone at a blog page
here
.
It is inevitable that SSD is the way of the future, and with big guns like Intel jumping aboard the SSD bandwagon to drive prices down, this will allow solid state technology to drop within reach for most of us as they become more embedded in the mainstream market as a more future-proof alternative to the now aging mechanical storage mediums we've been used to seeing for decades.
Bring 'em on Intel - The sooner they arrive, the better!
SSDs are based on flash memory chip technology and have no moving parts. Hard-disk drives, in contrast, use read-write heads that hover over spinning platters to access and record data. With no moving parts, SSDs avoid both the risk of mechanical failure and the mechanical delays of HDDs. Therefore, SSDs are generally faster and more reliable. The catch is the cost: SSDs are currently much more expensive than HDDs. Intel is expected to make an announcement during the second quarter.

"I played the part of Guinea Pig and had one of our pre-production solid state drives installed in my IT laptop...I was unprepared for the powerful instant high it gave my system," he wrote in a blog. There was a "dramatic difference in how my system responded," he said.