Earlier this week, we reported on the existence of a brand new RDNA 3 GPU from AMD that isn't a Radeon RX 7800 or Radeon RX 7700. The new Radeon RX 7900 GRE or Golden Rabbit Edition is a cutdown version of the Radeon RX 7900 XT created exclusively for the Chinese market, with AMD unveiling the new GPU at ChinaJoy 2023.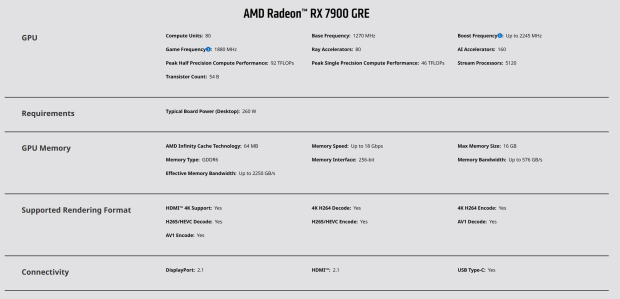 AIBs, including PowerColor, Sapphire, and XFX, were on hand to show off their custom designs of the new AMD GPU alongside a new reference design from AMD featuring a similar triple-fan cooling solution to what was found on the Radeon RX 7900 XT and Radeon RX 7900 XTX reference models.
Specs-wise, we also now have confirmation of what "cutdown" means, with the Radeon RX 7900 GRE featuring the same Navi 31 GPU as the Radeon RX 7900 XT but with 80 Compute Units compared to 84 Compute Units. And with 16GB of VRAM compared to 20GB on a slower 256-bit bus. Clock speeds have also been reigned in, with a boost clock of 2245 MHz sitting lower than the Radeon RX 7900 XT's 2400 MHz.
The good news is that this cutting down means a lower Typical Board Power (TBP) rating of 260W for the new Radeon RX 7900 GRE compared to 315W for the Radeon RX 7900 XT. What does this mean in terms of performance? AMD has already put official benchmark results for the Radeon RX 7900 GRE on the GPU's product page.
Covering 1440p results with max settings delivers the following average framerate results.
Call of Duty: Modern Warfare 2 - 136 FPS

Dead Island 2 - 154 FPS

Company of Heroes 3 - 184 FPS

Cyberpunk 2077 - 94 FPS

Star Wars: Jedi Survivor - 81 FPS

Forspoken (Raytracing) - 72 FPS

Dead Space (Raytracing) - 76 FPS

Resident Evil 4 (Raytracing) - 107 FPS

The Callisto Protocol (Raytracing) - 65 FPS

Returnal (Raytracing) - 72 FPS
As the card is exclusive to the Chinese market, the price has been set to RMB 5299 or USD 740, which is only 7% cheaper than the 7900 XT - a little strange. If the card does make its way to more global markets, it will probably become the baseline Radeon RX 7900.