MSI held a livestream that benchmarked the company's new MSI GeForce RTX 4060 Ti Gaming X 16GB Slim, comparing its performance to the 8GB non-slim Gaming X model on the same system across a handful of popular games at 1080p. And the results were the same across Cyberpunk 2077, running with Ultra settings to CS:GO to Hogwarts Legacy with DLSS and Frame Generation. Actually, marginally slower in most cases.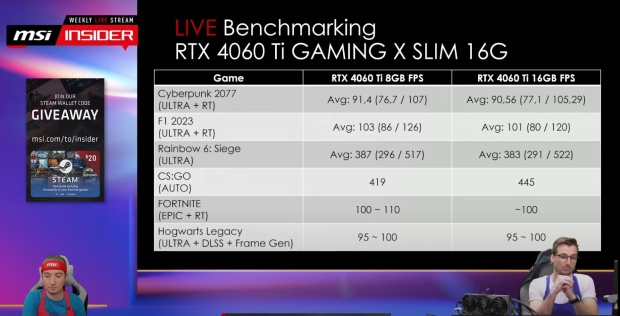 The first title benchmarked, Cyberpunk 2077, delivered 91.4 fps on the RTX 4060 Ti 8GB versus 90.6 fps on the RTX 4060 Ti 16GB. Not that it's a title that demands 16GB of VRAM to play in 1080p but the only benchmark where the new GeForce RTX 4060 Ti 16GB outperformed the GeForce RTX 4060 Ti 8GB model in MSI's 1080p benchmarks was CS:GO. In the popular competitive shooter, the frame rate increased from an already fast 419 fps up to 445 fps.
Ahead of the GeForce RTX 4060 Ti 16GB's launch, which sees the price increase from an MSRP of USD 399 to USD 499, NVIDIA's information on the card's relative performance was that, for the most part, it would be the same unless there's a very specific VRAM bottleneck. Or for those taking advantage of its creator-friendly capabilities, where more VRAM is always better.
If anything, these results showcase that at 1080p, the two variants of the GeForce RTX 4060 Ti are on par in terms of overall performance - even visually intensive titles, like Hogwarts Legacy, which was used as an example of the need for more VRAM in GPUs. Here it performs the same thanks to post-launch patches and updates that greatly improve performance on 8GB cards.
The benchmarks don't show the 1% low performance, which might be an area where the 16GB model excels - however, with a reduced 128-bit memory bus, it could be a case of diminishing returns when it comes to adding more VRAM to GeForce RTX 4060 cards. We'll undoubtedly get a better picture of how the new card performs in the coming weeks as reviews begin to pop up online.
In the meantime, you can watch the full livestream below.