AMD and its AM5 motherboard partners are rolling out the new AGESA 1.0.0.7B BIOS, which improves DDR5 memory support. And early reports indicate that the previous limit of DDR5-6000 has increased significantly to DDR5-7000 and even DDR5-8000.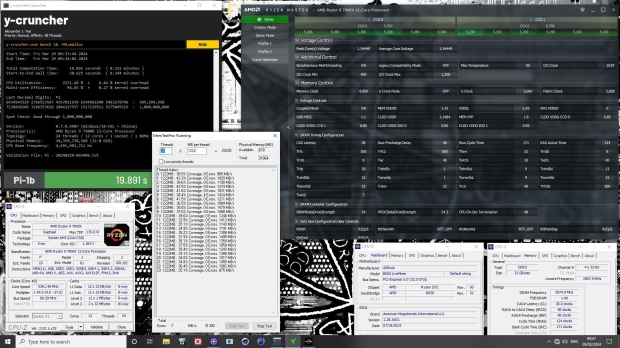 The new BIOS improves memory synchronization and stability with high-speed DDR5 modules with SOC voltage tuning within the 1.2-1.3V range, which is within the limits outlined by AMD. This post over on Twitter shows the new BIOS running on an ASRock B650 LiveMixer motherboard and DDR5 memory, hitting an impressive speed of 8000 MT/s.
This post on Twitter from chi11eddog also showcases an even faster DDR5-8200 result with the new BIOS on a more premium MSI X670E Ace board. Specs-wise, the build is rocking the flagship AMD Ryzen 9 7950X CPU with OLOy DDR5 memory rated at 7600 MT/s overclocked-a massive improvement over previous AM5 DDR5 speeds.
On the official front, GIGABYTE has posted some specific AGESA 1.0.0.7B BIOS where DDR5 8000 speeds were achieved with the company's X670E AORUS MASTER motherboard, which it calls " the most remarkable memory performance on the AM5 platform."
Not to be left out, there have also been examples of ASUS boards hitting the same DDR5-8000 speeds on the ROG Crosshair X670E GENE motherboard. The BIOS update is available from partners currently in Beta form, with an official release slated for the end of July - so expect the rollout to happen in the coming weeks. The update will allow memory kits with 7600-7800 MT/s speeds on AM5, opening the door to more choices regarding high-speed RAM on AM5 and Ryzen 7000 systems.