In December 2022, NVIDIA released Portal with RTX - a stunning path-traced and fully ray-traced remaster of Valve's iconic puzzle game that took full advantage of modern rendering and the company's DLSS 3 Frame Generation technology. A glimpse at the future of lighting in games through the guise of one of the best first-person puzzle games in recent times.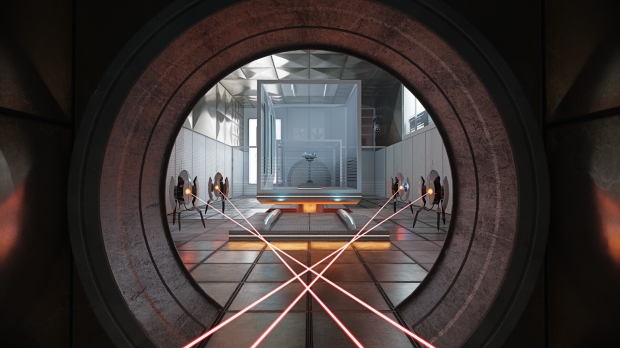 Created in part with NVIDIA RTX Remix, the company's modding platform that can transform any older title to bring it into the RTX era, it's one of those releases that is a must if you've purchased one of the new GeForce RTX 40 Series graphics cards.
Today comes word from NVIDIA that it has used the same RTX Remix toolset to remaster one of Portal's most enduring mods - Portal: Prelude from creator Nicolas "NykO18" Grevet. Set before the game's events, this unofficial and award-winning prequel in RTX form includes enhanced materials, full ray tracing, NVIDIA DLSS 3, and NVIDIA Reflex support.
What makes this project exciting is that NVIDIA has collaborated with a team of creators and modders, including David "Kralich" Driver-Gomm and Valerios "Fearell_Val" Tsoumpas, for the creation of new assets and materials, Jack "Amicus" McDade and Colin "SordidSpectacle" Zachariasen to supply new voices, and the mod's original creator Nicolas for general gameplay improvements. And you can see the impressive results in the full trailer above.
Like Portal with RTX, the results are incredible, with full path-tracing bringing new life and incredible detail to the world. Portal: Prelude RTX includes the full challenging 8-10 hour campaign comprising 19 new test chambers, new gameplay mechanics, and a fully voiced story with NPCs to interact with. And it's available on Steam for free as a mod for those with the original Portal.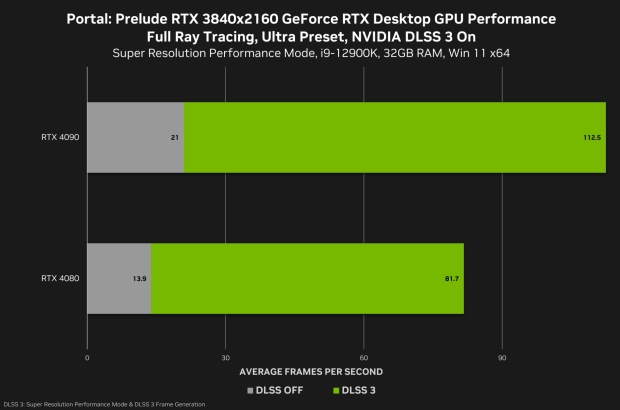 NVIDIA notes that even though the mod features vastly improved geometry in the game's environments with new lighting and over 200 new materials and textures, thanks to the power of RTX Remix, a small team of five people created it over eight months.
Like Portal with RTX, this mod is also a showcase for DLSS 3 Frame Generation due to the hardware-intensive full ray-tracing and path-tracing implementation. With DLSS 3, the GeForce RTX 4090 performance increases from 21 frames-per-second to an impressive 112.5 fps.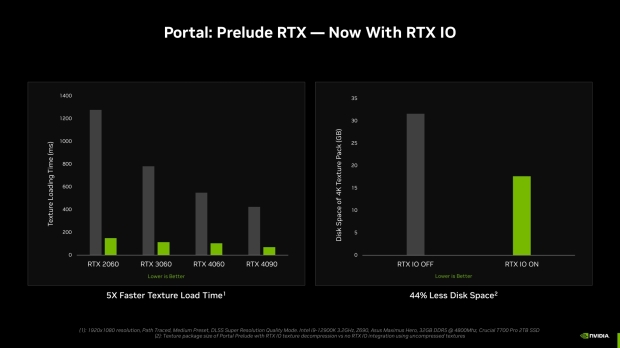 Portal: Prelude RTX also marks the debut of the first game to use NVIDIA RTX IO technology which enables "fast GPU-based loading and game asset decompression" ala Microsoft's DirectStorage for faster load times. It also reduces the storage required, with NVIDIA adding that in addition to a 5X increase in texture loading times, there's also a 44% reduction in disk space.