Ratchet & Clank: Rift Apart, which is soon to arrive on PC, has had its hardware requirements aired, and we've also discovered that it'll support DirectStorage on PC.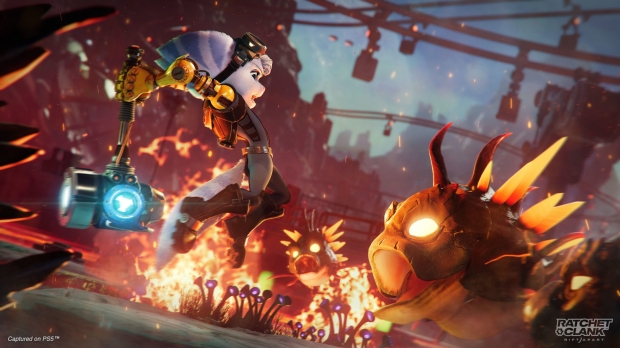 DirectStorage offers speedier load times on SSDs - and better performance in-game with loading assets on-the-fly - so it's unsurprising that there's been a lot of disappointment around how game devs aren't being so quick to adopt it on the PC platform (or even announce the tech for future titles, for that matter).
So far only Forspoken sports DirectStorage, but both Diablo IV and Hunt: Showdown will get it at some point in the future. Now at least we have another game to add to that very brief list.
Wccftech reports that the Ratchet & Clank: Rift Apart team has confirmed that it'll be the first DirectStorage 1.2 game with support for GPU decompression. Forspoken uses version 1.1, and while it should have GPU decompression, from what we've read online, it's uncertain whether this is actually the case.
GPU decompression is a big deal because it allows DirectStorage to take the work of decompressing game assets off the CPU - something the graphics card is more efficient at. Of course, that frees up the CPU to do other things, too.
Senior Lead Programmer for Ratchet & Clank: Rift Apart, Richard van der Laan, explained in a forum post: "DirectStorage ensures quick loading times and GPU decompression is used at high graphics settings to stream assets in the background while playing."
"Traditionally, this decompression is handled by the CPU, but at a certain point there is an advantage to letting the GPU handle this, as this enables a higher bandwidth for streaming assets from storage to the graphics card. We use this to quickly load high-quality textures and environments with a high level of detail."
What's a bit odd is that post has been removed (but it's still quoted on the ResetEra forum that Wccftech links to).
The Ratchet & Clank: Rift Apart PC spec requirements call for an SSD, you won't be surprised to learn - although at minimum settings, you can get away with a hard drive. The catch there? Minimum calls for the game to run at 720p with 30 frames per second, so that's an extremely low baseline. Oh, and it also stipulates very low graphics settings to make things worse.
So, if you want to run with at all half-decent graphics, this is another game that needs an SSD, not a hard drive.