There's a potential issue with the ROG Ally's thermal design and cooling, at least in terms of its configuration, with owners reporting problems with microSD cards. ASUS has confirmed the issue with a statement on Discord noting that "under certain thermal stress conditions, the SD card reader may malfunction."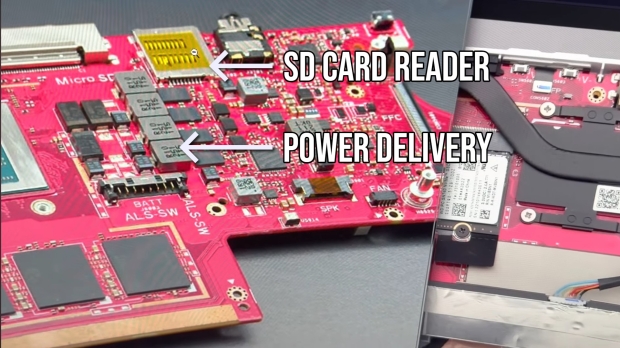 They are overheating to the point of no longer working or potentially ruining any cards that might be inserted into the microSD card reader on the ROG Ally gaming handheld. ASUS added that the issue falls within the RMA process and that the affected units will be repaired.
The issue points to a potential design flaw on the ROG Ally, which is highlighted in this YouTube video by CPPC TEK that points out that the SD card reader is located right next to where all of the power delivery happens on the PCB, one of the hottest spots on the board.
CPPC TEK's solution to the problem was creating a manual fan curve, and it looks like this will be the solution implemented by ASUS too. "To alleviate the issue, we will be releasing an update that further fine-tunes the default and minimum fan speeds on the device to improve reliability while keeping fan noise in check, as we know this is a concern for many of you," the official statement says.
Several reviews for the ROG Ally gaming handheld noted that while in use, the system was quieter than Valve's Steam Deck, so it will be interesting to see what impact the change in fan speeds brings to this side of the handheld. Of course, the issue doesn't affect the internal SSD, with most users using internal storage to install games and apps.