Linux has never been as popular as Microsoft Windows or Apple's macOS; that has been true for decades. But according to StatCounter's latest data, the open-source operating system hit a 3% market share in the desktop PC space in June 2023 - pointing to a growing audience enjoying Linux's lightweight, bloatware-free, and customization-friendly approach.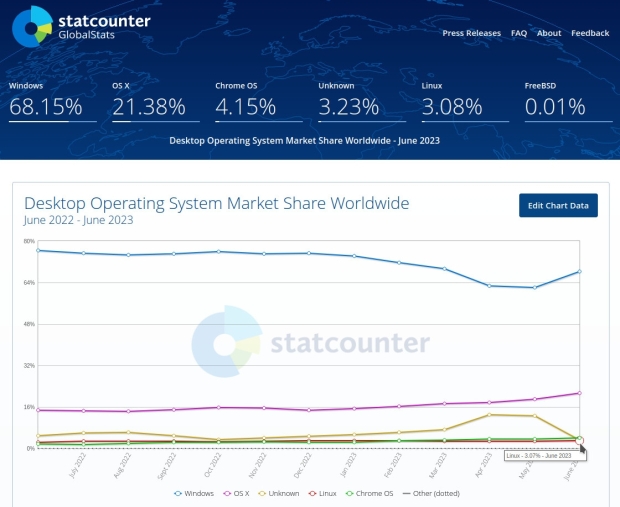 Naturally, 3% is a small figure compared to Windows commanding 68% of the desktop OS market share, and it even falls behind Google's ChromeOS, which is sitting on a 4% market share. This is a good news story for Linux (and Linux fans out there) because Linux's share has doubled since 2018. However, the macOS market share has also doubled in the same timeframe, growing to over 21%.
Linux is mainly seen as an operating system for the server space due to its open-source nature and customization-friendly design. It's a situation where you might find that two Linux setups look and behave very differently, thanks to different desktop environments like GNOME, KDE, Xfce, and others.
This might explain why some users hesitate to switch from something like Windows or macOS.
Linux is popular in the PC gaming space, with Valve adopting the operating system for its Steam Deck PC gaming handheld. Taking a look at the most recent Steam Hardware & Software Survey results for June 2023 and we see that Linux has a 1.44% share of Steam users, which is not a significant number by any stretch - with Windows dominating Steam usage with a share of 96.77%.
These figures reinforce the idea that Linux is a niche OS for desktop PC users and gamers, though an increase in market share - the biggest since the OS first launched - is worth celebrating.