An example of galactic evolution has been photographed by the world's most powerful space telescope, the James Webb Space Telescope (JWST).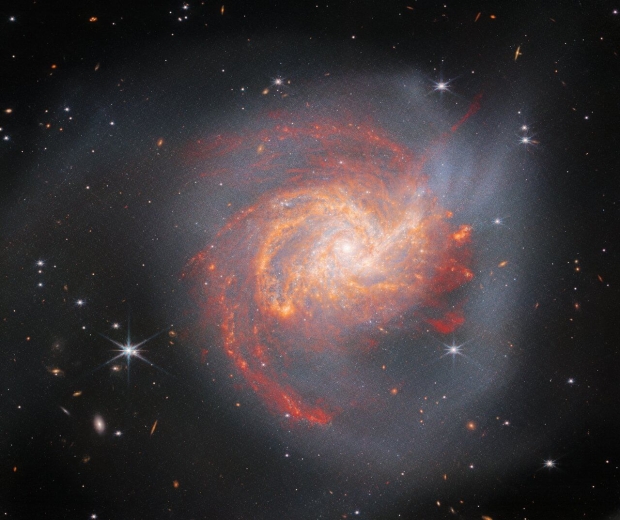 Introducing NGC 3256, a seemingly normal-looking spiral galaxy located approximately 131 million light years away from Earth within the constellation Vela. NASA and the European Space Agency's JWST has had its extremely powerful instruments pointed at NGC 3256, revealing more of the galaxy's violent past that contained a tragic but inevitable collision that occurred approximately 500 million years ago.
The spiral galaxy still bears the markers of that violent cosmic event, such as the galaxy's long tendril arms, and the young stars that were created as a result of the collision. Webb astronomers explained that Webb's images revealed how NGC 3256 was created in impressive detail, as the brightest portions of the image indicate luminous bursts of star formation that took place as the merger was taking place. These young stars are easily detectable by Webb's instruments as they shine brightly at infrared wavelengths.
"The tumultuous past of NGC 3256 is captured in the long tendrils of shining dust and stars which extend outwards from the main body of the galaxy," Webb astronomers said. "The striking red and orange regions spread across the galaxy contain young stars created in the merger that are irradiating small dust grains, which then emit infrared light that is captured in astonishing detail by Webb's instruments."
"Further out, there are extended tidal features, which are mostly stars pulled out of the galaxies when they collided. If you were asked to picture a galaxy collision, you might picture stars careening into one another with catastrophically explosive results," they said.
"In reality, the spaces between the stars in a galaxy are vast. When galaxies collide, their clouds of stars pass through one another and mingle like two clouds of smoke. The gas and dust in colliding galaxies does interact, however, and with spectacular results."