Meta's release of Threads has certainly caught the attention of millions of people, as the app has seen more than 30 million users already create an account.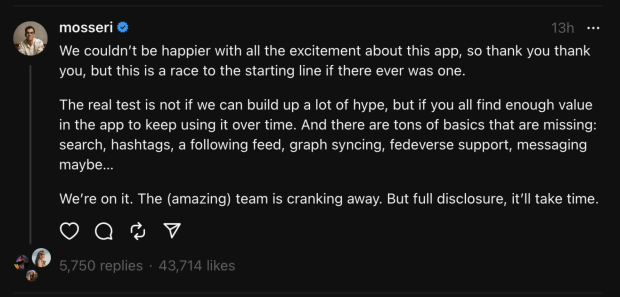 However, many of those users are reporting the app's lackluster features in comparison to the app's direct competitor - Twitter. Many of the features that users are requesting are already staple features of Twitter, such as the Following tab, Search, and messaging capabilities.
At the forefront of requests is the Following tab, as many users are reporting they don't want to exclusively see content provided by the Threads algorithm, which presents content to users based on what it thinks that users would like.
The head of Instagram, Adam Mosseri, took to his personal Threads account to firstly thank the public for the excitement surrounding the new app and to recognize that there are lots of "basics that are missing".
Mosseri goes on to say basic features that are missing are, "search, hashtags, a following feed, graph syncing, fedeverse support, messaging maybe..." Additionally, the head of Instagram says that "We're on it. The (amazing) team is cranking away. But full disclosure, it'll take time."
Threads users jumped into Mosseri's post to provide suggestions to the development team. One user suggested that messages should link to Instagram and that Threads shouldn't have its own independent messaging system as users already receive messages in so many different places. On a personal note, I do agree with this suggestion.
"We couldn't be happier with all the excitement about this app, so thank you thank you, but this is a race to the starting line if there ever was one.

The real test is not if we can build up a lot of hype, but if you all find enough value in the app to keep using it over time. And there are tons of basics that are missing: search, hashtags, a following feed, graph syncing, fedeverse support, messaging maybe...

We're on it. The (amazing) team is cranking away. But full disclosure, it'll take time," wrote Adam Mosseri