Intel Arc A380 represents the company's entry-level discrete gaming GPU, priced below USD 150 at retail outlets. Thanks to its excellent video support, it's the sort of GPU perfect for older systems or hybrid media servers. And with that, ASRock has unveiled its new Intel Arc A380 Low Profile 6GB graphics card with a height of just 69mm and a length of 169mm.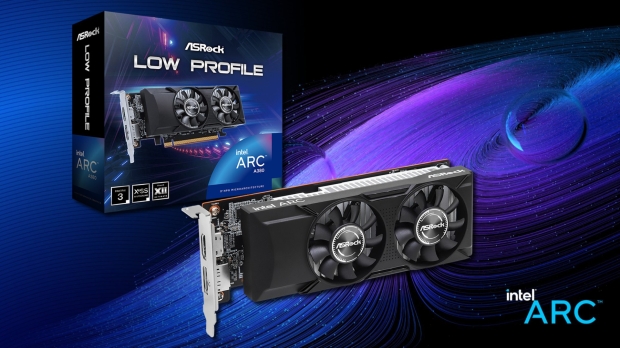 Specs-wise, you've got the ACM-G11 GPU with 1,024 stream processors, clock speeds of 2.0GHz, and 6GB of GDDR6 memory on a 96-bit bus. As an entry-level GPU, it's not meant to play the latest games with detail settings cranked up, but based on reviews, it can certainly hold its own when dialing things down - which is expected for an entry-level product.
One plus of the Intel Arc A380 is that it doesn't require any external power or cable to be connected, with the 75W of motherboard power via the PCIe slot being enough. ASRock's Intel Arc A380 Low Profile 6GB features a robust design, with its twin-fan cooling also offering a 0dB mode - a big plus if you plan to put one in a media PC.
The entry-level gaming performance might not surpass the heights of the more expensive Radeon RX 7600 or GeForce RTX 4060. Still, with its PCIe Gen 4 x 8 design and support for 8K video output via the single DisplayPort 2.0 and HDMI 2.0b connections, there's a case to be made for picking this up. The same AV1 encoding features are also seen across the Intel Arc range.
ASRock Intel Arc A380 Low Profile 6GB
Graphics Engine - Intel Arc A380 Graphics

Bus Standard - PCI Express4.0 x8

Memory - 6GB GDDR6

Engine Clock - Base Clock: 2000 MHz

Intel XMX Engines - 128

Memory Clock - 15.5 Gbps

Memory Interface - 96-bit

Resolution - Digital Max Resolution: 7680 x 4320

Interface - 1 x HDMI 2.0b, 1 x DisplayPort 2.0 with DSC

Dimensions - 169 x 69 x 39 mm, 2-slot

Net Weight - 263 g
ASRock's new Intel Arc A380 Low Profile 6GB graphics card isn't yet available via major retail outlets. However, it's safe to assume its price will be similar to ASRock's existing Intel Arc A380 Challenger ITX 6GB OC model - around USD 120.