In the recent FTC v Microsoft evidentiary hearing, Activision CEO Bobby Kotick revealed key metrics around the mega-popular Call of Duty franchise.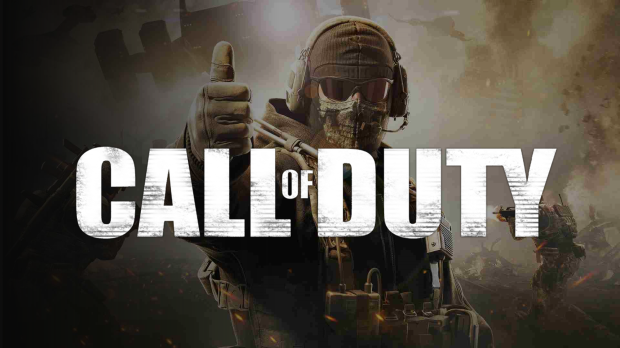 Over the past 20 years, the $31 billion Call of Duty franchise has amassed significant popularity across all PC and console. But in just 4 years, mobile has become far and away the largest platform for the shooter series. COD Mobile is not only a revenue powerhouse with over $1.5 billion earned in direct free-to-play monetization (as of 2021), but the mobile version has also captured more than half of the total Call of Duty playerbase.
According to testimony from Activision CEO Bobby Kotick in Day 4 of the FTC v Microsoft evidentiary hearing, 51% of total Call of Duty users are playing on mobile devices. It was also revealed that Call of Duty has 70 million daily active users. That's more than Roblox, one of the most highly-engaged games on the planet; at the BIG Festival 2023 event, it was revealed that Roblox had 66 million daily active users.
In an attempt to show the significance of Call of Duty's mobile presence, I've aligned the platform share split percentages from Kotick's testimony with the DAU figure he provided, as well as the MAUs that were publicly revealed in Activision's Q1 2023 earnings report.
Note that this is not perfect data. The percentages were given under oath, but Kotick also provided them off-the-cuff, and it is not clear what he was referring to in regards to the share split figures. I'm not sure if the percentages represent DAUs or MAUs, so I've included both below.
Q How many daily active users do COD games have?

Kotick: 70 million.
"The bulk of players are playing on phones. Then you have probably 25% on PC, and then there's probably say 15-16% play on PlayStation, 7-8% that play on Xbox," Kotick said in his testimony.
Let's start with Call of Duty's Daily Active Users (DAUs) by platform. Assuming the above percentages apply to the 70 million DAU figure, then Call of Duty's DAUs look like this:
• Mobile - 35.7 million
• PC - 17.5 million
• PlayStation - 11.2 million
• Xbox - 5.6 million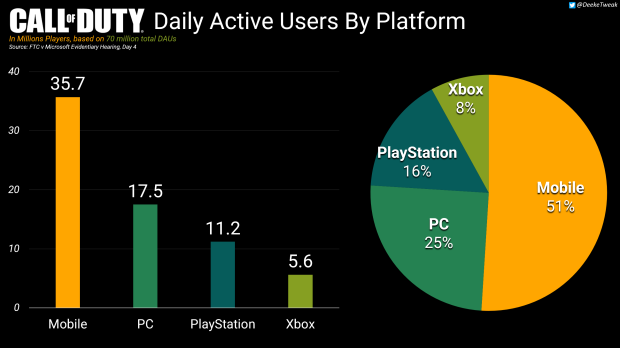 Here's a look at Call of Duty's Monthly Active Users (MAUs) by platform split, based on 98 million MAUs reported in Q1'23 factored into the percentages provided in Kotick's testimony:
• Mobile - 49.98 million
• PC - 24.5 million
• PlayStation - 15.68 million
• Xbox - 7.84 million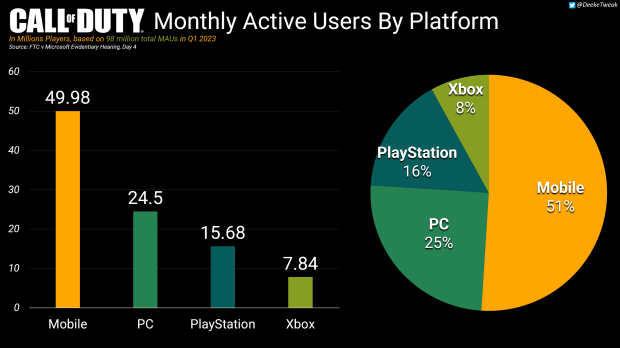 We can actually take this a step further. If we assume that Kotick's platform percentage share split is based on MAUs, or monthly active users, we can align this with total PlayStation MAUs to give an idea of how many players are captured on PlayStation platforms.
Sony reported 108 million MAUs on PlayStation in Q4 2022, which coincides with Q1 2023 calendar year. If Call of Duty had 15.68 million MAUs on PlayStation during this period, then the franchise captured 14.5% of total monthly active users on the platform.
Again, there is no clarification on which data point that Kotick was referring to--whether the share % platform split is meant to be configured against DAUs or MAUs--so this is difficult to confirm.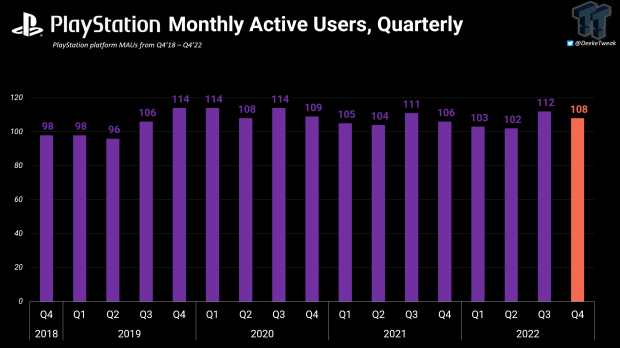 One thing we know for certain: Activision Blizzard King has generated more revenue from mobile gaming for the past two years in a row, driven by the success of Activision's Call of Duty Mobile, Blizzard's Diablo Immortal, and King's Candy Crush.