Bethesda's Starfield is a PC and Xbox exclusive and one of the most anticipated RPG releases in years, a brand-new sci-fi epic from the team behind Skyrim and Fallout. Recently, the studio announced its partnership with AMD for the PC release, where we learned that the game would support AMD's FSR 2.0 upscaling technology across PC and console alongside multi-threaded CPU optimizations.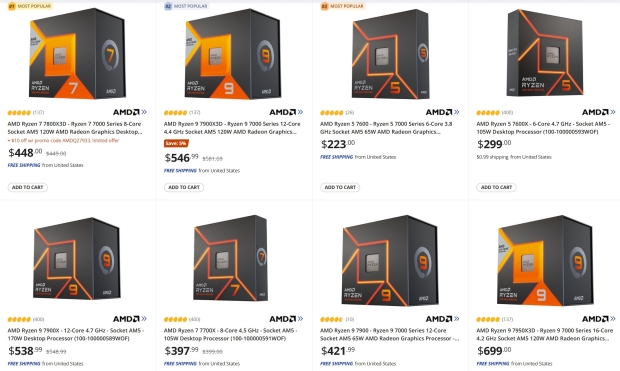 This news arrived last week and was criticized due to recent reports indicating that AMD is actively blocking developers from adding NVIDIA DLSS support to its sponsored games. To the point where modders have confirmed that they'll add unofficial DLSS 3 and Frame Generation support to the game within weeks of its launch.
Although that controversy is limited to the Radeon and GPU side of the equation, it looks like the partnership is as much about CPU performance - which is great. And according to this placeholder page over at US retailer Newegg, Starfield is set to be bundled with all new Ryzen 7000 CPUs.
The page features entries for all CPUs in the line-up, from the mainstream AMD Ryzen 5 7600 to the high-end AMD Ryzen 7 7800X3D and AMD Ryzen 9 7900X3D for gaming. The Starfield Ryzen CPU bundle hasn't been officially announced, but with the game launching on September 6, the promo's reveal could be on track for sometime in August.
It's uncertain if there will be a Starfield Radeon RX 7000 series bundle, but it's looking increasingly likely considering the game's support for FSR 2.0. AMD's current Ryzen and Radeon partnerships for Star Wars Jedi: Survivor and Resident Evil 4 are ending, so Starfield could be the next big one for team red across CPUs and GPUs.