According to economist Dr. Bailey, Nintendo is indeed a competitor in the console market, and her findings poke holes in the FTC's narrowed high-performance market definition.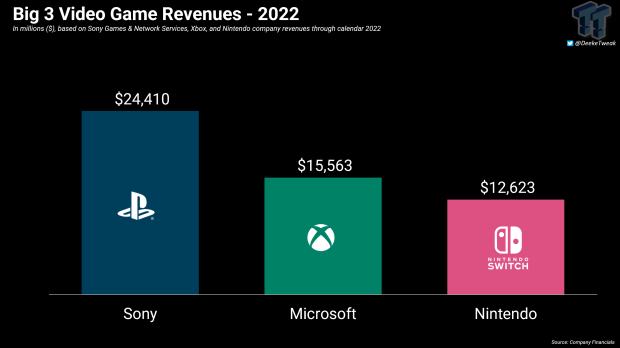 Economist Dr. Bailey represented defendants Microsoft and Activision in the ongoing FTC v Microsoft federal case. She was examined as a witness, and her testimony poked holes in the Commission's narrow high-performance console market definition, which excluded Nintendo from the Big 3.
In an effort to simplify the console market, the FTC enlisted economist Professor Lee to help identify potential foreclosure risks in a relevant market. This marked was known as the high-performance relevant console market, which removed Nintendo and PCs as competitors against PlayStation and Xbox consoles. This allowed the FTC to isolate their focus on PlayStation vs Xbox with the rationale that these platforms compete more closely with one another than they do with Nintendo, and while that's true on the surface, Dr. Bailey's testimony quickly undermined this assessment.
In her testimony, Dr. Bailey presented data that was based on telemetry data--figures like console sales across a certain span, earnings, monthly active users, etc--provided by Microsoft, Sony, and Nintendo. To help thwart the console market definition, Bailey was quick to point to identify substitution effects within the console market.
When the Switch launched, the number of gamers and the time spent on PlayStation and Xbox fell. This indicates that these users moved over to the new platform, further indicating a substitution effect. This suggests that the Switch is indeed a rival to both platforms.
Below we have Dr. Bailey's testimony from Day 4 of the evidentiary hearing:
The question at hand is whether Nintendo Switch is an important rival, a competitive constraint on Xbox and PlayStation. I was able to look at that question by considering what happened when the Switch entered in 2017.

When Nintendo Switch entered, I would expect to see an effect on gamer behavior. One was the change in active gamers, the number of gamers on the Xbox and PlayStation console.

I also looked at whether there was a change in game time hours, did those people change the amount of time they spend on those consoles.

I saw a fall. You can see the decline in the number of gamers on the Xbox console and the decline of gamers on PlayStation, and for those gamers that stayed, how the game time hours changed. You can see a decline there on both Xbox and PlayStation.

This is what I would expect to see if there were substitution, if gamers on Xbox and PlayStation thought Switch was a substitution. This is what I found...

Corley: You looked at data for 10 weeks? Did that same decline then exist past the 10 weeks?

I did not look past 10 weeks. The longer we go out, the more events that start to come in, the harder it is to control for what is happening.

Corley: The opinion you draw is that at least when it came out, consumers played on it and purchased it.

Not only did they do that, more specifically, Xbox and PlayStation gamers switched. They switched their behavior. For at least that 10 week period.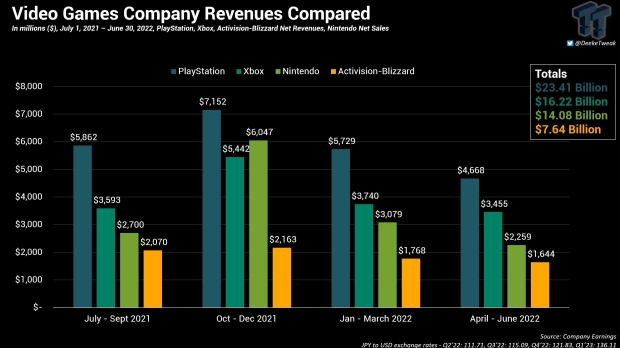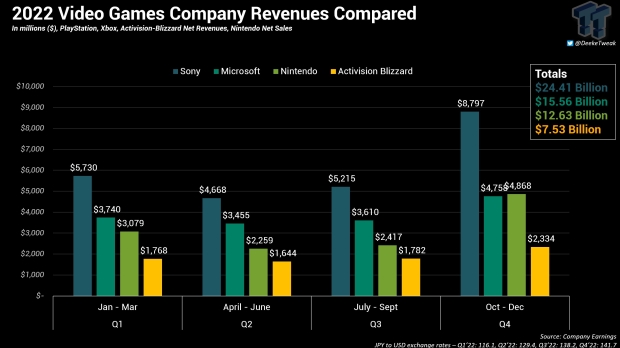 Further along in this examination, Bailey was asked if it was correct to remove Nintendo as a competitor:
Q Can Nintendo properly be excluded from a hardware market?

Nintendo and PC are properly included in that relevant market. Dr Lee's market, it's too narrow.
FTC lawyers pressed Bailey on her findings in regards to substitution effects, in which she answered:
Q As a result, you have no basis to opine whether without the transaction whether consumers would substitute Xbox, with PlayStation?

I disagree with that. I think the starting part from Dr lee's report, was that Xbox and PlayStation are in the same relevant market. The analyses I did speak to the gamer substitution to the Nintendo console. We talked about substitution to PC.