Microsoft has no intention of disruptive Activision Blizzard King's creative operations if the two companies are allowed to merge.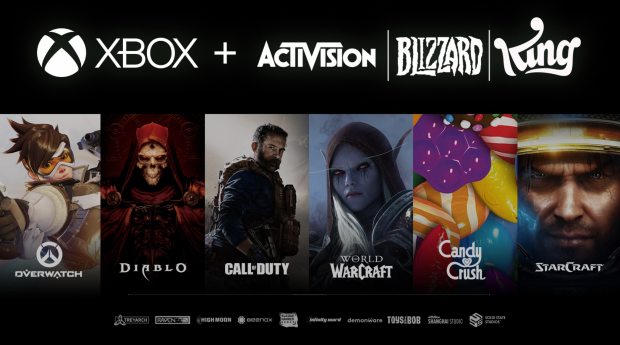 Microsoft's service-first model will disrupt Activision's core business, but to what extent remains unknown. Game Pass subscriptions have been proven to cannibalize and/or reduce sales of premium games. This effect is the exact reason Activision has kept its games off of value-oriented multi-game subscription services like Game Pass--the publisher very strongly relies on full game sales in its annualized Call of Duty franchise, a series that has amassed over 425 million copies and generated over $31 billion in revenues to date. Diablo IV's recent success also underlines this disruption; the game managed to make $666 million in just five days based on game sales alone, a feat that may not have been possible if the game was release on Xbox Game Pass on a day one basis.
While the Microsoft-Activision merger will undoubtedly disrupt Activision's core business model in terms of game sales, Microsoft does not want to shake up the publisher's creative process (unfortunately, this could happen regardless due to the subscription-based business model, which could lead to a change in how games are made, alongside layoffs that are typical after consolidation).
In a recent court filing that outlines Microsoft's reasons to oppose the FTC's preliminary injunction request, Microsoft lawyers say that the tech giant will be mostly hands-off when it comes to Activision Blizzard King's creative operations. Microsoft legal counsel gives the example of Mojang to illustrate its point, but we may also be able to include Bethesda as well. Reports indicate that Bethesda is its own independently-operated publishing entity within the Xbox Game Studios banner.
"Microsoft intends to operate Activision similar to other recent acquisitions, such as Minecraft developer Mojang. In other words, Activision's creative operations will remain separate and continue to run as they did pre-merger."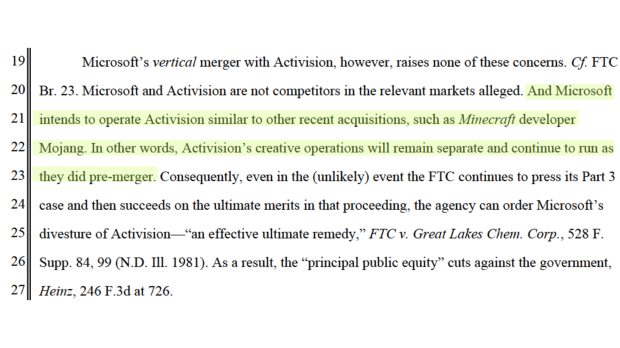 Microsoft has mostly been hands-off when it comes to Bethesda games, and this has led to some big slip-ups like the publisher's latest game Redfall. This has led to Xbox executive management promising to do better and get to specific games on an earlier basis to help guide teams to better synergize and mesh with the Xbox business, including Game Pass.
Activision is not well-versed in planning its games for a service-oriented subscription model, but the company is indeed extremely adept in live services. It remains unclear exactly how much disruption the merger will pose to Activision's business, but the service-oriented synergies could be quite beneficial to both companies.