Computex 2023 is off to a roaring start, and as you can probably imagine, ASUS is very excited to show off its latest products. Introducing the already-released ASUS Zenbook 17 Fold OLED.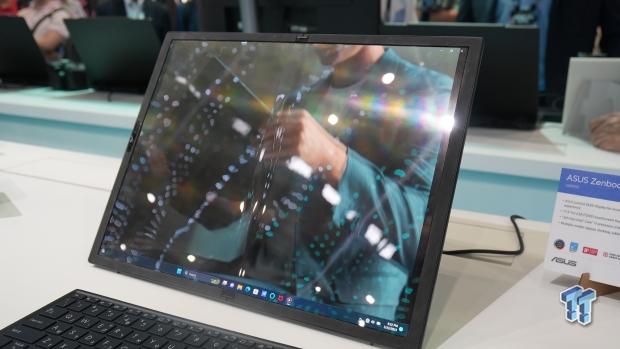 ASUS was kind enough to give me an introduction to the Zenbook 17 Fold OLED and explained to me that the product is designed for versatility as it can be transformed into multiple modes depending on what the user requires. ASUS explained to me that the Zenbook 17 Fold OLED comes with an ASUS Lumina OLED display for more accurate color, which tiers perfectly into the video-watching mode as pictured above. More specifically, the Zenbook 17 Fold OLED comes with a 17.3' 4:3 2.5K FOLED touchscreen that folds down to a 12.5" 3:2 laptop, as pictured below.
ASUS has equipped the Zenbook 17 Fold OLED with a laptop mode for users that need to work in tight spaces, such as on a flight, or users that are looking to conserve battery life. Additionally, users have the option of using a virtual keyboard if the physical keyboard isn't their forte. Furthermore, the Zenbook 17 Fold OLED comes with a 12th Gen Intel Core 17 processor.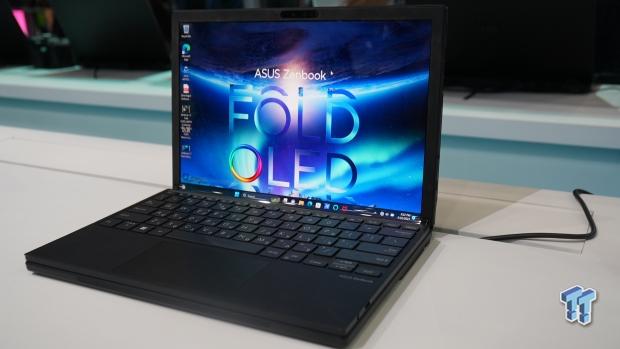 So, what are the downsides? Unfortunately, these very impressive displays absolutely drain the battery. According to ASUS, the battery will last eight hours with video playback in the 17-inch mode and nine hours of video playback with only one panel playing video back. Notably, the portable device is charged by USB-C, so you can expect fast charging speeds. Lastly, the Zenbook 17 Fold OLED is priced at a crazy expensive $3,500.