PlayStation's peripheral business is growing alongside record-breaking hardware and software earnings.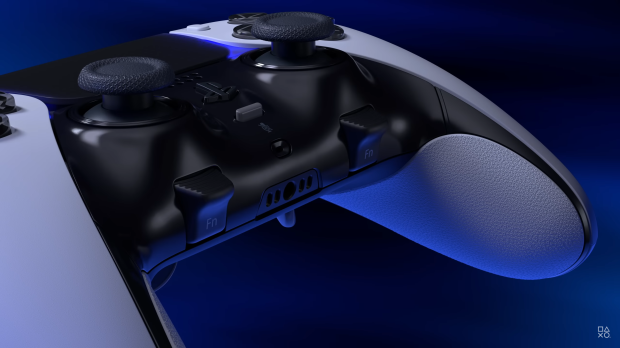 Accessories are typically an overlooked part of the games industry. Hardware sales and content revenues are at the forefront, but the peripherals market is surprisingly profitable for gaming's largest platform-holder.
Sony's efforts to expand the PS5's lineup with a range of optional accessories are paying off. The company says that its PlayStation 5 accessories range, which includes the $199 DualSense Edge controller, has become very profitable.
"An area of our business that is also booming is accessories. Our PS5 peripheral line is the best we've ever released for any console, both in functionality and in aesthetics," Sony Senior Vice President, Head of Worldwide Marketing, Sales, Business Operations & Consumer Experience Eric Lempel said during a recent presentation.
"The growing consumer demand for PS5 accessories is driving record high revenue in this highly important and profitable category."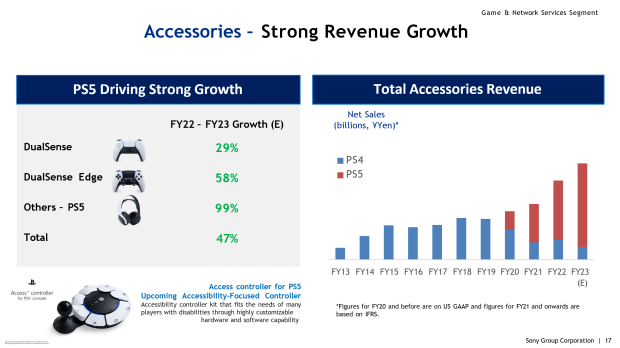 Sony notes that total accessories revenue is up 47% over the prior generation. This reflects the increased $69.99 price tag attached to the most basic PlayStation 5 DualSense controller, as well as extra additions like $55 faceplate covers for the console, a $99 Pulse 3D headset, and a range of more premium monitors and headsets under the InZone brand.
This surges in accessories revenue also helped PlayStation's Others segment generate a record-breaking $2.510 billion in earnings. The Others segment includes peripherals, accessories, PC games, and devices such as the PlayStation VR2 (which has sold quite well).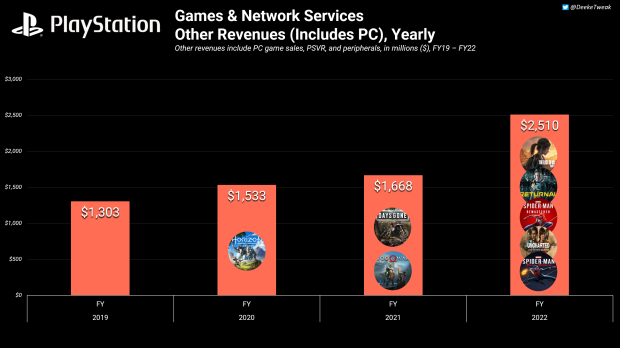 As per the PlayStation Direct storefront, current PlayStation 5 accessories include:
DualSense Charging Station - $29

Media Remote - $29

PS5 Faceplate Covers - $55

HD Camera - $59

DualSense Controllers - $69 - $75

Pulse 3D Headsets - $99

DualSense Edge - $199

InZone Premium Headsets - $59- $279

InZone Monitors - $469 - $799