Telly, a company founded and unveiled by Ilya Pozin, has announced it will be giving away half a million 55-inch 4K TVs that feature a second display that permanently runs advertisements in an effort to create the first sustainable advertising business around free televisions.
Pozin announced Telly on Monday, and its unveiling went off with a bang when the company said it would be giving away millions of premium TV sets completely free of charge, and to kick things off, it will be starting with a batch of 500,000 TVs. The Hollywood Reporter spoke to Pozin, where he explained the motivation behind giving away the televisions, saying that "Companies are making billions of dollars from ads served on televisions, yet consumers have historically had to pay for both the TV and the content they watch. All of that changes today."
So, what's the catch? As with most things you get for free, there is a downside, and Telly's free 4K TV is no exception. Firstly, The Hollywood Reporter managed to get a guided tour of one of Pozin's TVs located in Telly's New York office, as photographed above, where he said each TV set features a 55-inch 4K HDR screen, microphone at the top of the display for voice command interaction, a five driver sound bar, LED strips to illuminate the back of the TV, a HD camera for video calling/workout classes, motion sensor and a second display.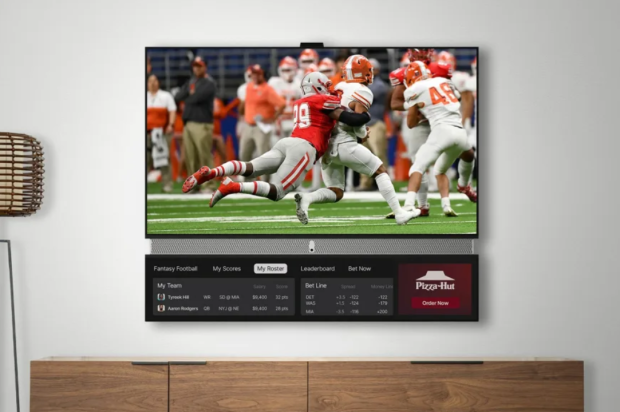 The second display is the main focus for Telly as its what the company is hinging its success on. According to Pozin, the second display can be used to display weather, widgets, sports scorers, or even stock prices. The downside? At the bottom of the second screen, there is a sponsored news ticker and a large square box that cycles through advertisements. Both of these ad placements are permanent and cannot be removed.
Pozin said that while the TV may seem cheap given the current price point of the set, "don't be fooled" as it's "not a budget TV by any means whatsoever" and that it would sell for more than $1,000 if it was placed alongside other TVs of similar performance.
So, how does Pozin and Telly actually make money? Simply one word, data. Each of Telly's TVs will harvest all of the data of its user, giving Telly information on the user's demographics, psychographics, who they are, what they watch, where they live, income, what car they are driving, favorite brands, sports teams, and more. All of this data will be used to curate accurate advertising to users, which advertising companies will pay Telly big bucks for.
More specifically, Telly reserves the rights to track "search queries, settings preferences, applications you open, purchases or other transactions you make, buttons you select, the time, frequency, and duration of your activities, the physical presence of you and any other individuals using the TV at any given time, and other usage data."
While also retaining the ability to "share your Viewing and Activity Data with third-party data partners and advertisers who use it to show you relevant ads and provide you with customized content."
"It's provisioned to that device that gives us full targeting and addressability. Similar to other TV makers, we have viewing data, but we also have audience data now at the individual household. When you merge those two things together, the targeting is literally one-to-one. So if Toyota wants to run an ad to people that currently own a Honda whose lease expires within the next 12 months, we pick and choose those individual TVs and only those TVs, and that's where the ad shows up," said Pozin.