Scientists have re-looked over data acquired by NASA's Voyager 2 spacecraft and combined their new perspective with updated computer modeling to discover a watery presence on Uranus' five moons.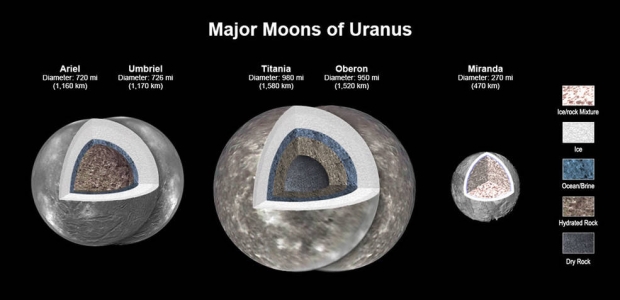 NASA has taken to its blog on its website to detail a new study published in the Journal of Geophysical Research, which looks at Uranus' five large moons: Ariel, Umbriel, Titania, Oberon, and Miranda. Notably, Uranus has a total of 27 moons orbiting the ice giant, but only four of them are considered to be large moons, with the largest being Titania at a diameter of 980 miles and the smallest being Ariel at 720 miles in diameter. The other large moons range in size between the aforementioned figures.
As for the recently published study, NASA writes it's the first to detail the evolution of the interior makeup and structure of Uranus' large moons, and its results indicate the presence of oceans dozens of miles below each of the moon's surface. Using data from NASA's Voyager 2 fly-by of Uranus in 1980, combined with ground-based observations from NASA's Galileo, Cassini, Dawn, and New Horizons, the researchers were able to gauge how porous the surface of each of Uranus' large moon's are. The study found that the Uranian moons' surfaces are insulated enough to retain heat, a vital element in a body being able to host an internal ocean.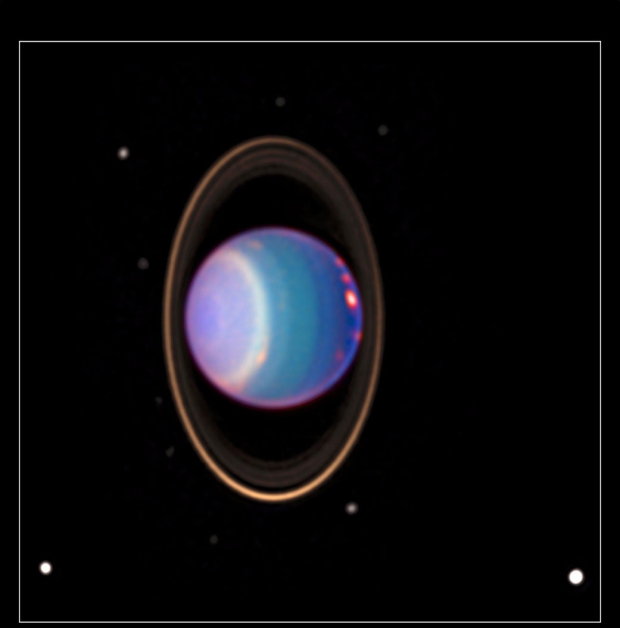 Additionally, the team found evidence of an internal heat source in the moon's rocky mantle that releases hot liquid - another indication that a subsurface ocean could be present. Using telescopes, researchers are able to learn about the composition of the moon's icy crust, with one study indicating that Ariel has spewed liquid material onto its surface, presumably from icy volcano eruptions.
In other space news, a team of researchers has witnessed a star engulfing a planet as it neared its end of life. The observation is the very first of its kind and, according to the researchers, has given a glimpse into the distant future of what Earth will experience in approximately 5 billion years, a tragic doom of the Sun expanding, consuming Mercury, Venus, and eventually Earth.
The observed star was a red giant, and it began to run low on fuel, causing it to grow in size. Its atmosphere eventually surrounded the entire planet, eventually pulling it beneath the star's surface. During the violent engulfing, the star temporarily grew in size and brightness. If you are interested in reading more about that story, check out the below link.