OCZ launches new Vendetta 2 CPU Cooler
Heat pipe direct touch tech.

Published Wed, Mar 12 2008 1:12 AM CDT
|
Updated Tue, Nov 3 2020 12:38 PM CST
OCZ Technology has just released its newest CPU cooler, the Vendetta 2.
The Vendetta 2 is designed for all current Intel and AMD processors and uses heat pipe direct touch (HDT) design technology, which is said to dissipate heat more efficiently. It includes three pure copper heat pipes and includes two year warranty.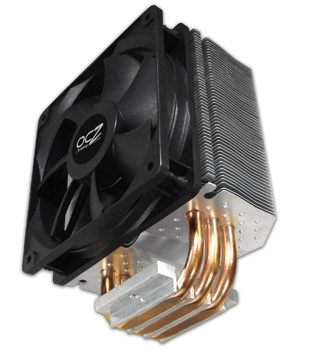 It also includes a large 120mm fan for quiet computing which only generates 20 (spinning at 800 RPM) to 32 dBA (spinning at 1500 RPM). Anything below 40 dBA is usually considered to be silent or at least inaudible. The fan is attached to the heatsink using rubber connectors to reduce vibrations and further reduce excess noise levels.
"Cooling is an important part of any computer system, not only to keep ICs operating but also to maintain a temperature range in which they operate at optimal power efficiency," commented Dr. Michael Schuette, VP of Technology Development at OCZ Technology. "Aside from raw temperature numbers, these considerations are also gaining importance in the context of green computing. The Vendetta 2 is the latest addition to a family of direct-contact heatpipe coolers under the Vendetta umbrella and brings increased size and performance to the table at an affordable price."

Utilizing the proven performance of the latest HDT design, the Vendetta 2 has direct contact with the processor using three copper heat pipes to ensure the most rapid heat transfer. The dimple micro-configuration of the stacked aluminum fins adds turbulence, reducing the skin effect of air flow for more efficient circulation within your case. The versatile and user-friendly Vendetta 2 is compatible with AMD AM2/939/754/755 and Intel 775 sockets and can be installed quickly and easily by end-users at all skill levels.
We will have one in for testing soon but for now, take a look at the
product page
at the OCZ website.