Final Fantasy XVI promises to deliver epic, larger-than-life monster battles with outrageous damage output.
There's a lot to like in the recent Final Fantasy XVI State of Play gameplay stream. Square Enix has made it clear that FFXVI will spin a tale of medieval sword-and-board fantasy complete with dazzling locales, explosive combat, and some of the most chaotic boss battles in the history of the franchise.
These battles will pit two massive fantasy beasts against one another in some of the most flashy arcade action we've seen from the series. These eikons (summons in FFVII, Guardian Forces s from Final Fantasy VIII, aeons in FFX, etc.) are hulking monstrosities that hearken back to the glory days of kaiju films--gigantic Japanese creatures that duke it out and destroy an entire city in the process.
One thing that really stood out to me about Final Fantasy XVI is the damage indicators. The setup blends FF13's font with FFX's absurd damage output to make players feel like they're demolishing foes. Sometimes this works--other times the damage is so incredibly small relative to an enemy's health pool.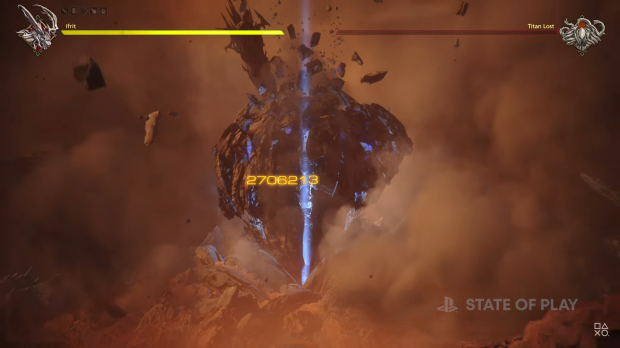 The tail-end of the epic eikon fight shown in the recent FFXVI trailer shows that there might not be a cap on how much damage you can actually do in the game.
In the conclusion of an epic fight with the eikon Titan, we see Ifrit dish out an insane finishing attack that deals over 2.7 million damage (2,706,213 damage, in fact). That's well beyond the 99,999 damage limit from FFX and really underlines just how epic these battles will end up being.
This also brings up an interesting point of the maximum damage output that players can do in the game, whether in human or eikon form. Maybe it caps out at 9.9 million, or even 999 million?
Final Fantasy XV releases June 22 exclusively on the PlayStation 5.