LIAN LI has launched a pair of new RGB products, the most notable being the new STRIMER PLUS V2 12VHPWR cables designed for ATX 3.0 power supplies and GeForce RTX 40 Series graphics cards.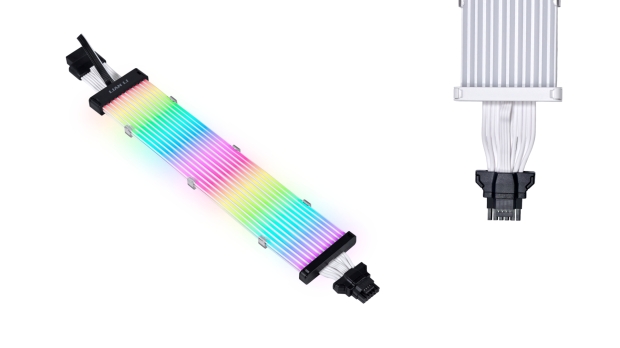 It features a custom 12VHPWR male connector on the GPU, following the ATX 3.0 standard with improvements to the original design to ensure a stronger connection to the GPU. This is excellent news, as 12VHPWR connectors made so many headlines last year due to potential issues with the connection on the GPU side.
LIAN LI notes that the cables can deliver up to 600W, sustain high temperatures, and even sharper bends. Part of the housing can also be removed to allow for an even greater bend closer to the connector to add additional support for narrow PC cases. The wide array of LEDs (with 8 or 12 light guides) grabbed our attention.
The lighting is also compatible (and able to sync) with ASUS, MSI, GIGABYTE, and ASRock RGB customization. The cable can also connect to an existing STRIMER L-Connect 3 controller via the 3x8pin or 2x8-pin slot for compatibility. For older PSUs without a direct 12VHPWR connection, there's a STRIMER PLUS V2 12VHPWR 12+4pin to 3x8pin option.
Pricing is as per below.
STRIMER PLUS V2 12VHPWR (available at NEWEGG and AliExpress)
12+4pin to 12+4pin, 12 Light guides, USD 59.99

12+4pin to 12+4pin, 8 Light guides, USD 49.99

12+4pin to 3x8pin, 8 Light guides, USD 49.99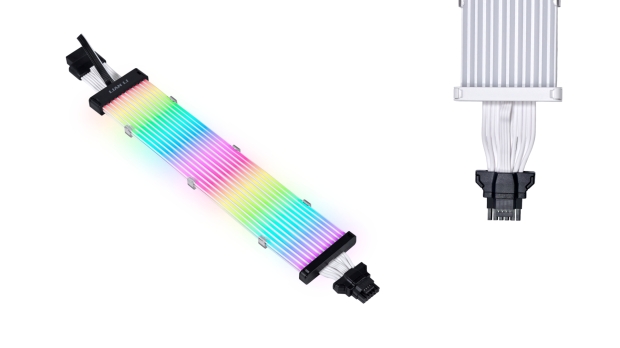 LIAN LI has also launched a second RGB product with the UNI FAN AL V2 fans that introduce corner lighting because you can never have enough RGB action. LIAN LI's lighting software L-Connect 3 offers lighting control for each corner. The new fans are also thicker than previous versions at 28mm, which LIAN LI notes allows for speeds of up to 2000 RPM and a 20% improvement in airflow. The fans also sport a daisy chain design.
Available in White or Black, pricing is as per below.
UNI FAN AL V2 (available at NEWEGG and AliExpress)
120 Single Pack - USD 27.99

120 Triple Pack (With controller) - USD 89.99

140 Single Pack - USD 30.99