Microsoft has rolled out a new feature for its newly released artificial intelligence-powered chatbot Bing Chat, with users now able to convert their words into images via a simple prompt.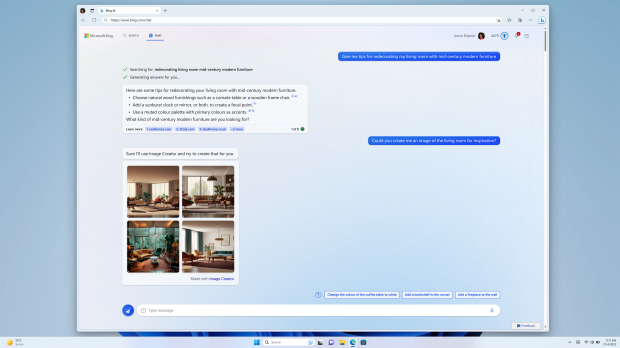 Bing Chat, which uses the underpinning software running OpenAI's ChatGPT, has been upgraded to convert natural language prompts into images through the power of the DALL-E model, also created by OpenAI. According to Microsoft's announcement, BingAI has integrated an advanced version of the DALL-E model with the assistance of OpenAI and developers have put in safeguards to stop users from getting the AI to generate unsafe or offensive images.
These safeguards come from OpenAI's own policies and principals that it has outlined in its AI guidelines. Furthermore, Microsoft's Corporate Vice President and Chief Marketing Officer Yusuf Mehdi explained that when the AI detects that a potentially harmful image would be generated from a prompt the system blocks the creation of that image and warns the user of what has happened and why. Mehdi adds that Microsoft has added a modified Bing icon at the bottom left corner of each image to distinguish which images were created using Bing's Image Creator.
Microsoft outlines in its blog that Image Creator was rolled out because the human brain processes visual information about 60,000 times faster than text and that because this images are critical way people search, create and gain an understanding of subjects. Notably, Microsoft writes that Image Creator will be rolling out directly to the Edge browser, enabling users to create images from whatever webpage they are on by simply navigating to the Bing sidebar in Edge.
"By typing in a description of an image, providing additional context like location or activity, and choosing an art style, Image Creator will generate an image from your own imagination. It's like your creative copilot. Just type something like "draw an image" or "create an image" as a prompt in chat to get creating a visual for a newsletter to friends or as inspiration for redecorating your living room," writes Microsoft.
Bing Chat will continue to gain more features as OpenAI continues its development on the GPT language model. Microsoft has invested heavily in OpenAI with more than $10 billion pledged to the company and in return Microsoft has gained exclusive access to the GPT language model and seemingly all its future features as well as OpenAI's companion systems such as DALL-E. As a result of these new upgrades, Bing Chat has pulled more than 100 million users to Bing search every day, and a third of that number are interacting directly with Bing Chat at least once a day.
Microsoft explain in its blog that Bing Image Creator is now available for Bing Preview users, which requires you to sign up for the waitlist. However, the standalone Image Creator is already available for users to enjoy on the Image Creator website.