The integrated RDNA graphics hardware inside AMD's latest Ryzen 7000 desktop CPU range features only 2 compute units with up to 0.563 TFLOPs of performance. It's the first time AMD put RDNA graphics inside a desktop CPU, but its addition was purely made to improve diagnostic capabilities and offer basic GPU functionality. Translation, it's not meant to be used to play games.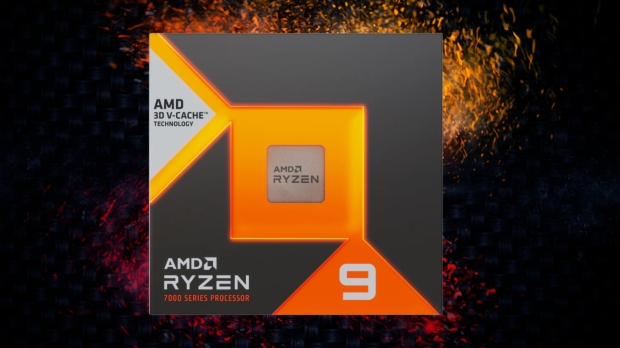 This, in a way, is almost like asking tech reviewers to do precisely that - and with the launch of the new (and impressive) AMD Ryzen 9 7950X3D CPU with 3D V-Cache technology, that's what happened over at PCMag. It seems that 3D V-Cache is brilliant for gaming, even in integrated RDNA GPU form, with performance gains in the region of 4X in 720p and 1080p.
The outlet tested four games; F1 22, Total War: Three Kingdoms, Bioshock Infinite, and Tomb Raider. Using the Ultra-Low preset in the visually demanding F1 22 and the average frame rate at 720p for the AMD Ryzen 9 7950X3D CPU was an impressive 62 fps compared to the AMD Ryzen 9 7950X's 19 fps. Which is playable, with the Ryzen 9 7950X3D also hitting 33 fps in 1080p. This puts its performance slightly faster or on par with the integrated graphics of the Intel Core i9-13900K.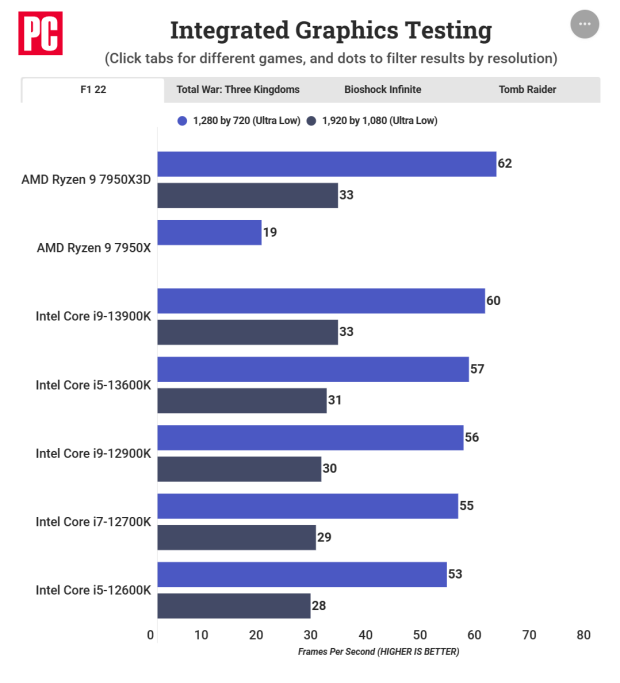 The AMD Ryzen 9 7950X3D CPU lags behind several of Intel's GPUs in the other games tested. Hence, the real story is that 3D V-Cache technology is excellent for gaming - even in a severely limited state. The only game where it doesn't manage to hit 30 fps is Tomb Raider, but the Ryzen 9 7950X3D's 26 fps is a massive leap forward over the Ryzen 9 7950X's 6 fps.
The results we see with the AMD Ryzen 9 7950X3D CPU bode well for the future of AMD APU hardware, where we could see some compelling integrated graphics. AMD's Ryzen 7040 "Phoenix" APU lineup for laptops is set to feature 12 RDNA 3 compute units (compared to the 2 RDNA 2 CUs seen here), and it looks like the 3D V-Cache might be the key for unlocking incredible performance.