NVIDIA has finally launched its video upscaling tech that adds a bit of DLSS magic to watching YouTube videos within Google Chrome and Microsoft Edge called RTX Video Super Resolution (VSR). It uses the AI-based Tensor Core hardware found inside GeForce RTX 30 and 40 Series GPUs to make video content that streams at 1080p or lower look much better than the basic upscaling techniques used by modern browsers.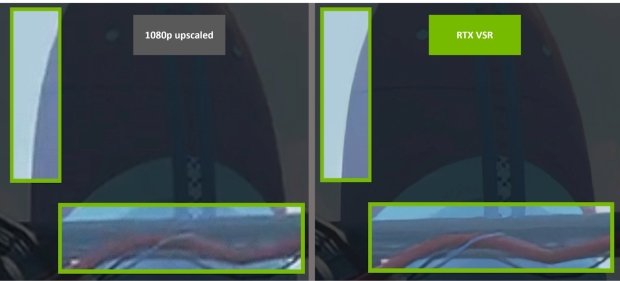 Like with DLSS, the goal is essentially to make 1080p video look like a native 4K stream without having to use a lot more bandwidth. NVIDIA notes that the AI removes blocky compression artifacts while improving sharpness and clarity. RTX VSR is available now as part of the latest GeForce Game Ready Driver that dropped today.
"Just like putting on a pair of prescription glasses can instantly snap the world into focus," writes NVIDIA. "RTX Video Super Resolution gives viewers on GeForce RTX 40 and 30 Series PCs a clear picture into the world of streaming video."
Like with DLSS, the RTX VSR AI model has been trained with countless low-resolution images to predict high-resolution versions. And for those wondering, the impressive AI upscaling for video that debuted with the SHIELD TV in 2019 was an early version of the technology. Here the tech is leveraging the Tensor Cores in GeForce RTX hardware to evolve the results for PC use where users sit much closer to the screen.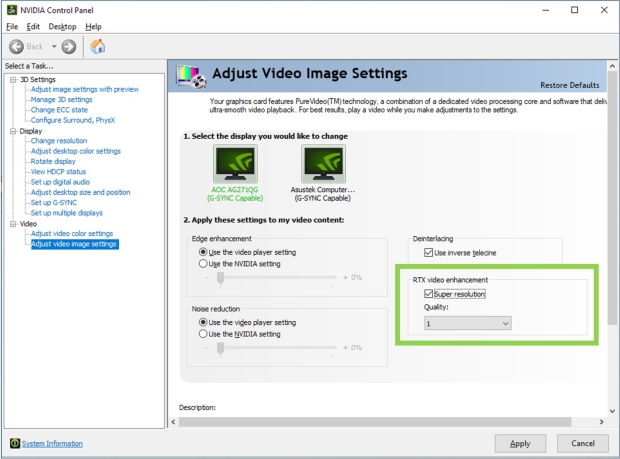 The fascinating aspect of RTX VSR is that it has been designed with video compression artifacts in mind. Watching a 4K video on YouTube is a different experience from firing up a 4K movie on a disc.
"The deep learning network is trained on a wide range of content with various compression levels," explains NVIDIA. "It learns about types of compression artifacts present in low-resolution or low-quality videos that are otherwise absent in uncompressed images as a reference for network training. Extensive visual evaluation is employed to ensure that the generated model is effective on nearly all real-world and gaming content."
Enabling VSR on your GeForce RTX 30 or 40 series PC is super simple, too; open the NVIDIA control panel and, under "Adjust Video Settings," enable "Super Resolution."