A group of astronomers has used the SMARTS 1.5-meter Telescope at Cerro Tololo Inter-American Observatory in Chile to discover what is being described as the first example of a rare type of star system.
According to a press release and a study published in the scientific journal Nature, the team of astronomers discovered this unusual star system called CPD-29 2176, which is located approximately 11,400 light-years away from Earth. The star system is so rare that the researchers estimate there are only about ten such star systems within the entire Milky Way galaxy. So, what makes it so rare? CPD-29 2176 was found to have the right conditions for a kilonova to take place, an extremely powerful explosion that occurs when a neutron star collides with another neutron star.
The astronomers outline in the press release that data from the SMARTS telescope informed researchers on the orbital characteristics of the star system and what stars it consists of. The researchers found one neutron star that was created by an ultra-stripped supernova, an end-of-life explosion of a massive star that has had much of its outer atmosphere stripped away by a companion star. Additionally, the researchers found a second closely orbiting star that is on its way to becoming an ultra-stripped supernova.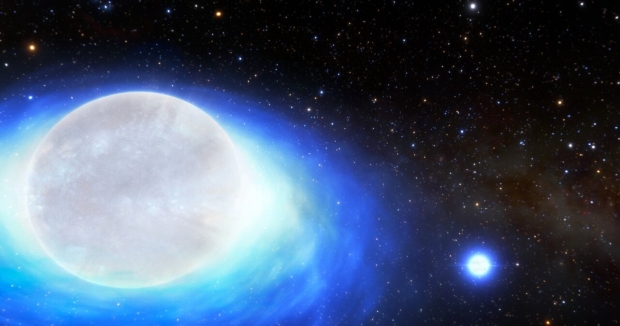 "We know that the Milky Way contains at least 100 billion stars and likely hundreds of billions more. This remarkable binary system is essentially a one-in-ten-billion system. Prior to our study, the estimate was that only one or two such systems should exist in a spiral galaxy like the Milky Way," said NOIRLab astronomer and co-author Andre-Nicolas Chene.
So, why is this important? Over time the incredibly dense neutron star will slowly destroy its companion star by stripping it of its atmosphere, causing it to become a neutron star. Then both of these neutron stars will collide in an event called a kilonova, which has hardly ever been observed by astronomers due to its rarity. Studying these extremely rare star systems can assist astronomers in unraveling the mysteries of how kilonovae occur and the origin of some of the heaviest elements ever found in the universe.
While it's definitely a good thing that astronomers discovered this system, as there is now potential to learn more about these cosmic oddities, the astronomers behind the discovery won't actually be able to watch the main event. Researchers estimate that the collision between the two stars is expected to occur in at least one million years, meaning that researchers in the future (if Earth is still around) will have to continue with research on what was initially discovered approximately a million years ago.
When the merger between the two stars takes place, the kilonova explosion will produce a powerful explosion that generates gravitation waves. Furthermore, the remnants of the star will be heavy elements such as silver and gold.
"This system reveals that some neutron stars are formed with only a small supernova kick. As we understand the growing population of systems like CPD-29 2176 we will gain insight into how calm some stellar deaths may be and if these stars can die without traditional supernovae," said Noel D. Richardson at Embry-Riddle Aeronautical University and lead author of the paper.