Like looking at a dream of playing 16-bit SNES games back in the 1990s come true, Super Nintendo World is officially opening its doors and warp pipes at Universal Studios Hollywood on February 17.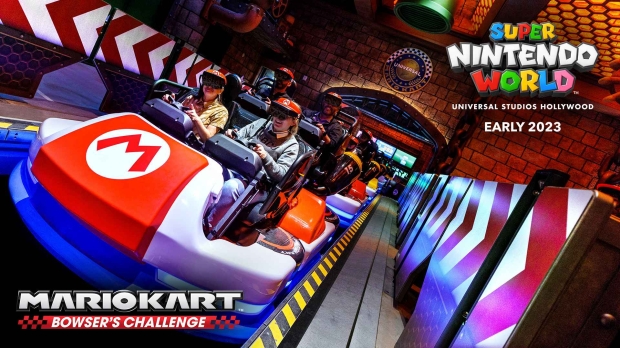 And the main attraction will be Mario Kart: Bowser's Challenge, a recreation of the classic Mario Kart using physical vehicles and augmented reality (AR) helmets that riders will put on. The track will feature several moving pieces but adding AR will push the immersion to the next level.
As a real-world version of Mario Kart, "the creative use and integration of head-mounted AR goggles" does sound like riders will be able to collect and use items and interact with the course. Very cool.
Riders will race against Team Bowser with multiple courses and outcomes, including cloud-based and underwater races.
Super Nintendo World is located in a newly expanded area of Universal Studios Hollywood, with the entire theme park modeled as the real-world Mushroom Kingdom. It will feature several activities and landmarks, including Bowser's Castle and other familiar Mushroom Kingdom architecture. The starting area of the theme park includes a recreated Peach's Castle, Super Mario 64 style.
Those who visit can also put on a Power-Up Band, a sold-separately wearable wristband that syncs with an app allowing visitors to keep track of their scores and progress across the many activities. Plus, "extra-special interactions with Mario, Luigi, and Princess Peach."
With a Super Mario theme park opening in Japan and the animated movie also on track for release this year - Nintendo's mascot looks to be as popular as ever. Now, if only this existed back in the 1990s, my own peak Super Mario years.