Asus Nova P22 pictured live
From the Taipei IT Month show.
Published Mon, Dec 3 2007 2:53 AM CST
|
Updated Tue, Nov 3 2020 12:38 PM CST
Although we're a couple of days late with covering the new mini PC from Asus which goes under the name of Nova P22, we can bring you the first picture taken of it, straight from the Taipei IT Month show. Well, to call it a show isn't quite fair, as it's more of a computer faire, as everything is on sale. It opened on Saturday and the show goes on for nine days and it held at the same location as Computex.
It was very crowded on opening day and busier than Computex as the show is open to the general public and there's no admission fee. It's not as big as Computex though, as it's limited to two of the halls instead of all four. There wasn't much new to see, since this isn't a launch event for most companies, although Microsoft soft launched the Xbox 360 Arcade in Taiwan at the show.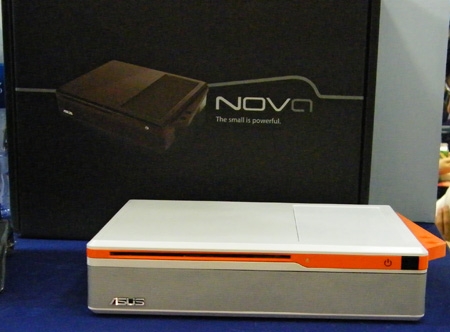 But let's get to the point, the Asus Nova P22 comes in two colours, white/orange or black. The black model we saw was covered in cellophane and didn't photograph well at all, so sadly you'll have to make do with the white/orange version. It's not going after the Mac mini market, as Asus is trying to make this appeal to those looking for a compact all-in-one system. It comes pre-install with Windows Vista Home Premium with MCE and a MCE remote controller comes with the system.
The hardware specs aren't that exciting, the CPU is a Core 2 Duo E6320 clocked at 1.86GHz on a 1,066MHz FSB. The chipset is from Intel, although we're not quite sure which version it is, but the P22 relies on Intel GMA 3000 graphics which leads us to believe it's either a version of the 946 chipset or the Q965/Q963, especially as the system only ships with 1GB of DDR2 667MHz memory. Storage is provided by a 160GB SATA hard drive and there's also a slot-loaded Super Multi DVD writer.
Other features of the P22 include Gigabit Ethernet, 802.11 Draft-n Wi-Fi, Bluetooth 2.0, DVI, 7.1-channel HD audio, four USB 2.0 ports and as oddly as it might seem, a pair of integrated stereo speakers in the front. The system measures 231x184x54mm (WxDxH), has a volume of 2 litres and weighs in at 1.78kg's, that less than many notebooks. For now the Nova P22 is only available in Taiwan and if you want one it'll set you back AU$1,154 or US$1,019.
It also appears that there's a cheaper version of the Nova that goes under the P20 name which features a slower Intel Core Duo E2160 and a 120GB SATA drive which will set you back AU$945 or US$833, which seems a bit more reasonable.