Gigabyte adds Xmas lights to motherboard
Exclusive technology videoed.
Published Wed, Nov 21 2007 10:10 PM CST
|
Updated Tue, Nov 3 2020 12:38 PM CST
Ok, ok, we tricked you, it's not actually Christmas lights, but we can't exactly tell you what the lights in the video below are for as yet, but this is an exclusive preview of a new technology that will be featured on just about every new motherboard from Gigabyte starting with their X48 boards which will arrive in Q1 2008.
It might not look like much in the video and we're sorry about the lens glare, but the conditions where we shot this video were far from ideal, as the room was some 40-odd degrees warm as the boards were being stress tested. The first board is revision 1.1 of Gigabyte's X48 board and we're not quite sure what the second board was, as it was too dark to make out the model name, but it's a combo board as you can see from the amount of memory slots.
As cool as the lights might be, they're not the actual feature, they're just there to give you an idea of how it works and no, it's not a CPU load indicator. The whole thing is really cool and Gigabyte is getting it patented and it's taken them about a year to develop it. Sorry for the large amounts of non-information here, but we had to swear not to divulge anything too early to be able to post this exclusive video.
So please bear with us and everything will be revealed in due time here at TweakTown. For now, enjoy the light show and good luck with trying to guess what it's really all about. Answers on a postcard please...
Here's a quick update with a picture of the X48 board, see the little row of lights? Sorry about the odd looking cropping there just had to cut out some messy cables and a few things that didn't look too great in the picture, so don't think there was something top secret that we had to remove. Well, at least that's our story and we're sticking to it.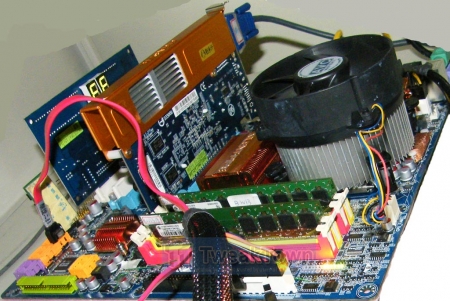 Click to enlarge
Note that this was set up in Gigabyte's lab and that the components in the board was strictly unrelated to performance testing of this board.