PowerColor launches 5 38x0 series cards
Overclocked from day one.
Published Thu, Nov 15 2007 1:46 AM CST
|
Updated Tue, Nov 3 2020 12:38 PM CST
PowerColor has launched a range of five 38x0 series cards in total, which isn't bad going considering that there's only two GPU's to choose from. Let's start from the bottom and work our way up, as these cards differ somewhat from the reference cards, which is a good thing by all means. Let's start with the HD 3850 which comes with 256MB GDDR3 memory and a stock cooler. This card has a core speed of 668MHz and a memory speed of 828 or 1,656MHz effectively. Nothing much to write home about here, but it should be quite cheap.
Next up we have the HD 3850 PCS and it has 512MB of GDDR3 memory and a different cooler which comes from Zerotherm as far as we can tell. PCS stands for Professional Cooling System and it applies to all custom models from PowerColor in the 38x0 range. The GPU of this card is clocked at 720MHz with the memory at 900/1,800MHz.
The third and final card using the 3850 GPU is the HD 3850 Xtreme PCS which to every extent is the same card as the HD 3850 PCS with one minor difference, one of the DVI ports have been replaced by an HDMI connector, although there's no picture of the actual card on PowerColor's site as yet of this card. It's odd to call this card Xtreme and we'd rather seen a low noise none overclocked version with HDMI, but never mind.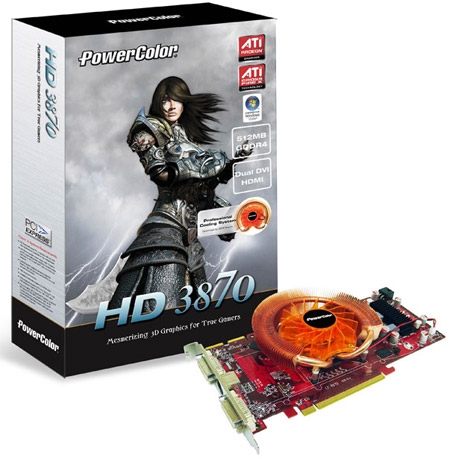 Next up is the HD 3870 which again uses the stock cooler from AMD. The core speed for this card is 775MHz and it has 512MB of GDDR4 memory clocked at 1,126/2,252MHz which is the kind of stock speeds that were expected.
Finally we have the crme de la crme from PowerColor, the HD 3870 PCS, which features the same cooler as the 3850 PCS from what we can tell. The GPU for this card is clocked at 800MHz with the memory at 1,200/2,400MHz. Hopefully this card will be able to at least compete on even terms with a stock clocked 8800 GT, as from what we can tell from the benchmark figures so far, there isn't that much between the two in some games.
You can find the product page for these cards
here