Intel Shelton low cost platform in 2008
For the everyman computer.
Published Tue, Nov 13 2007 3:36 AM CST
|
Updated Tue, Nov 3 2020 12:38 PM CST
Intel is working on a new platform for ultra low cost computers for what the company refers to as the "Next Billion Users". This was talked about at IDF Taiwan earlier this year, although no real information about this new platform was revealed. HKEPC has now managed to get some further information on this new platform and it will go under the name of Shelton.
Although the first product is already available and it's the D301GLY2 motherboard you can see below which is using the SIS671 chipset. Intel is planning to use its own 945GC chipset in the future and it will be paired up with the Diamondville processor. The CPU will be soldered onto the motherboard to reduce cost, but it also limits any possible upgradability of these low cost machines.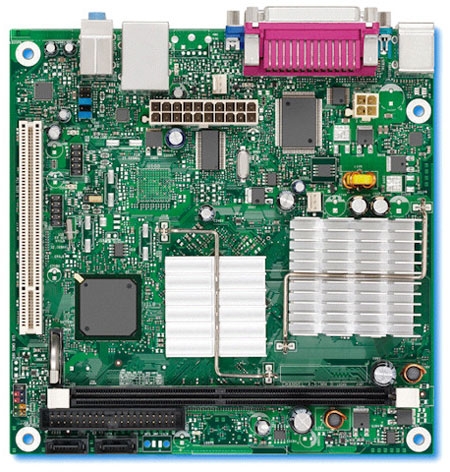 Part of the specifications will be IDE and SATA drive support, a total of six USB ports, legacy support which means serial and parallel ports in this case and a 2 to 4GB Intel Flash drive. The reason for the Flash drive is that it's cheaper than even the smallest size hard drives and it has potentially a longer life span, especially in some environments.
The Shelton platform will be passively cooled and it will be for anything from low cost, basic PC's to thin clients, so you might actually end up seeing these in other places as well. It looks as if Intel is going down the right route here for an affordable everyday PC for those that just need the basics and we could see this selling in many other parts of the world as well, it just depends on how Intel's partners market the platform.
You can find additional information
here
in Chinese