AquaComputer 8800GT Waterblock *Updated*
German team nailed it.
Published Sat, Nov 10 2007 6:51 PM CST
|
Updated Tue, Nov 3 2020 12:38 PM CST
Update: It was originally thought that what I was looking at here was an all-passive cooler for the 8800GT graphics card; this was a mistake of interpretation from the images provided without taking the time to fully understand what this product is.

Stupidly, I failed to note the 'Aqua' in their company name as being indicative of what this product actually is. This is NOT a passive cooler as first thought, rather an aftermarket *waterblock*.

I sincerely apologise for inaccurately reporting the details of this product, and as a news writer for TweakTown who takes a lot of pride in his pieces, I am amazed that I have made such a big mistake here.

I was unwell during the time in which I'd posted up this news piece; however it does not excuse me for having rushed this up without fully understanding what it is I am writing about. This is well against what my usual methods are for bringing our readers the quality of content we strive to maintain on a daily basis.

All I can promise to everyone is that this opens my eyes wider with certainty to ensure I am fully in tune with what I am writing about before it is brought to you.
German PC cooling mob "
Aqua-Computer
" have released a very snazzy looking after-market graphics card waterblock today, this designed to be used on the G92/8800GT cards.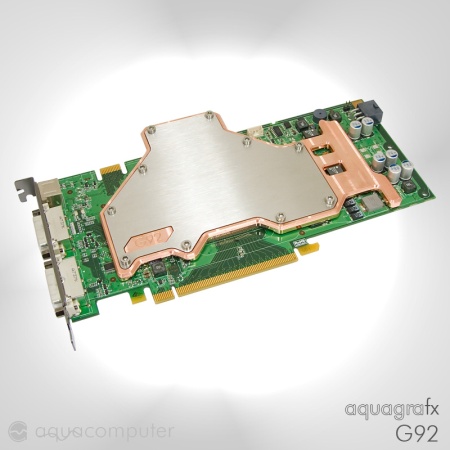 Dubbed the "Aquagrafx G92", the waterblock is made from solid copper and is large enough to cover not only the GPU but the RAM and voltage regulators as well.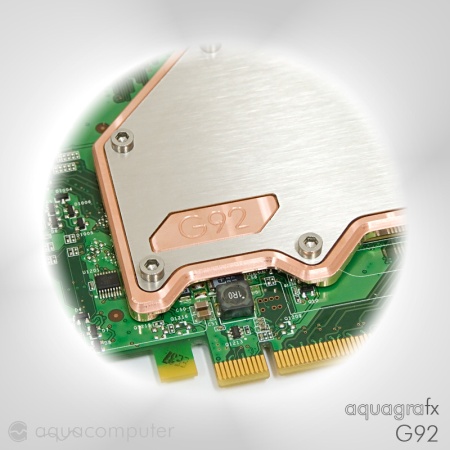 Aqua-Computer have stated that the price of the block will come in at 79.90 euros with delivery beginning in around 10 days.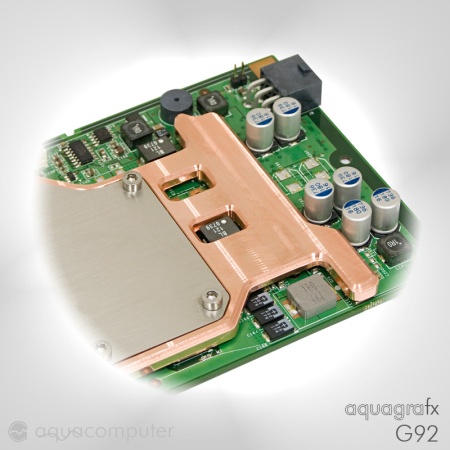 We have the new aquagrafx G92 complete cooler in the assortment since today. This cooler fits on 8800GT cards. The cooler is manufactured from copper and has a weight of 480 grams.

Despite the low height of about 6 mm the cooler with its 17 mm of broad channels reaches a good flow which is not narrowed by the G1/4 connections either. An effortful cooling structure which guarantees an optimal heat removal is over the GPU.

The graphics processor, the RAM as well as the 10 voltage regulators are cooled, in which furthermore another three voltage regulators which are not fitted on the current card are also cooled.

As a lid there will be a variant made of high-grade steel and a bit later a variant of plexiglas. Moreover, the plexiglas lid will have G1/4 threads so that the connections can be fitted also above.

The aquagrafx G92 will cost 79,90 euros and can be ordered in advance already. The delivery starts within approx. 10 days.

The pictures attached show a prototype. The production quality will be increased for the series and of course there will be the well-known engraving on the lid.