E-Ten launches two new GPS WM6 phones
Smarter than the average phone.
Published Thu, Nov 8 2007 6:34 AM CST
|
Updated Tue, Nov 3 2020 12:38 PM CST
E-Ten has announced that it's finally shipping the Glofiish X800 and the company also released its X600 at the same time. The X800 was shown back at Computex earlier this year, but it has taken this long for it to become available. It features a 500MHz Samsung SC3 2442 processor and it has 256MB of flash memory and 64MB of RAM. The screen measures 2.8-inches and has a 640x480 resolution.
It's a 3G handset which HSDPA support and it works on 2100, 1900 and 850MHz for 3G and it also works on all four GSM bands and as a backup to 3G it does GPRS class 10. Of course it also has 802.11b/g Wi-Fi and Bluetooth 2.0 with EDR.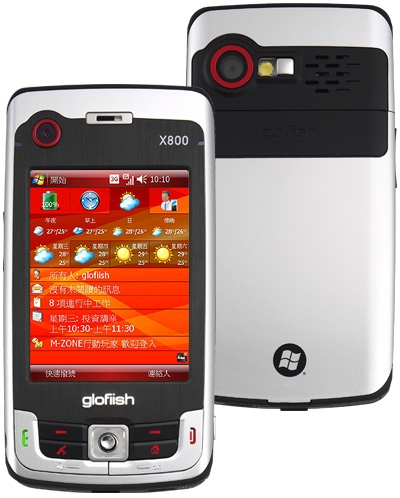 As with previous devices from E-Ten the X800 also features a built in SiRF Star III GPS unit and it also features a 2Megapixel camera with LED flash as well as a front mounted camera for video calls. Memory expansion comes in the shape of micro SD card slot, it can be connected to your PC via a mini USB port and it even has a built in FM radio.
The X800 measures 113.5 x 60.5 x 15.8 mm (HxWxD) and it weighs 147g. It comes with a 1,530mAh batter which is meant to be good for some 120-150h in standby, 5-7h of calls, 10-15h of PDA usage or 2-2.5h of GPS usage, so it might be wise to get a car charger if you intend to use it as a GPS in the car.
The X600 is a rather more stylish device in our opinion, although it doesn't boast the same high-end features as the X800. It is powered by a 400MHz Samsung SC3 2442 CPU and it has half the flash at 128MB, but it still has 64MB of RAM. It has the same 2.8-inch display, but the resolution is only 320x240.
It doesn't support 3G, but it's still a quad band GSM device with GPRS class 10 support. It also has 802.11b/g Wi-Fi and Bluetooth 2.0 with EDR. It also has the same SiRF Star III GPS module built in and a 2Megapixel rear mounted camera.
Memory expansion comes courtesy of a micro SD card just as with the X800 and the X600 also has a mini USB port and an FM radio. It measures 107 x 58 x 14.7 mm (HxWxD) and weighs slightly less at 136g. The X600 has a 1,530mAh battery as well, but it has a longer standby time of 150-170h, but oddly enough the call time is only 5-6h. The PDA usage time is 12-14h while the GPS batter life seems to have been vastly improved over the X800 to 5-7h on a single charge.
Neither device is up on E-Ten's English website as yet, but hopefully they'll appear there shortly. We're expecting an X800 review unit to arrive, so look out for the review in the near future.