Next gen DFI Lanparty sneak peek
Intel X38 and AMD RD790.
Published Fri, Sep 7 2007 3:57 AM CDT
|
Updated Tue, Nov 3 2020 12:39 PM CST
It's been a busy day here at TweakTown today with loads of company visits. While Cam was out visiting with Abit and ECS, I spent some time with DFI. What we got to see and find out some more about are the upcoming X38 and RD790 based Lanparty boards. It also looks like DFI is about to expand its Lanparty series of motherboards with some slightly more affordable boards that lacks some of the hardcore overclocking features, but will still be premium boards.
Let's start with the Lanparty X38, which has gone through some changes since Computex earlier this year. First of all the colours of the slots have changed from orange to green and yellow, just like the P35-T2R. The board we saw was still in development and some changes might still be done before the final board is ready. The chipset cooling wasn't decided upon as yet, although it will use a cooling solution similar to the one on the P35-T2R.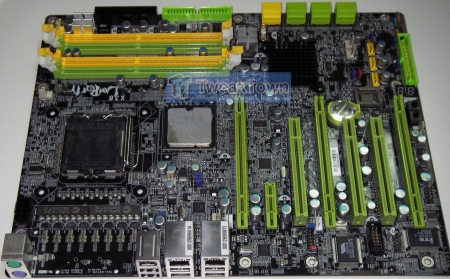 The power regulation had even been changed between two different boards we were looking at, as DFI is using an 8-phase digital PWM which allows the board to run very cool, even when over voltage is being applied. For those of you that have read up on your PCI Express lanes, you might have noticed that there are too many PCI Express lanes being used on this board. What DFI has done, is that the bottom PCI Express slot is only x1 as default and if you decide to use it as a x4 slot, then one of the Ethernet adaptors and the x1 slot will have to be disabled.
There's a built in switch that takes care of this, so it's just a simple BIOS setting. Both of the Gigabit Ethernet adapters are connected via PCI Express and they can be set up in teaming mode as with earlier boards from DFI for a total bandwidth of 2GBit. The audio chip used will also allow for an add-on module that adds the ability of connecting a normal telephone handset to it and it will route VoIP calls to the handset. This is compatible with Skype and possibly some other VoIP applications.
Next up we have the Lanparty RD790 which is still a very early sample, but it's completely different to the board that was on display at Computex, as the board shown there was an AMD reference board. The new board looks really promising and the sample we saw was fully functional and Windows XP was being installed on it.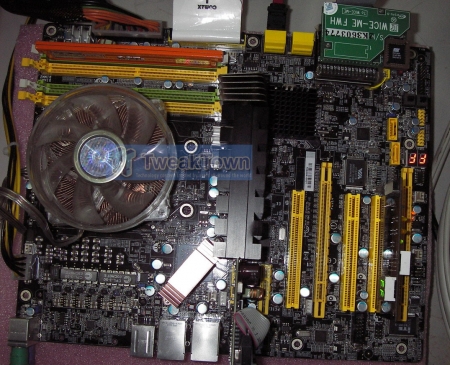 Interestingly this board only had a tiny heatsink covering the RD790 chipset and it appears that it's running really cool. The digital PWM didn't have a heatsink at all, which shows how much better this solution is compared to analogue PWM which runs much hotter for high-end boards like this.
We don't have a whole lot of information about this board, but it will support the upcoming Phenom AM2+ processors. Again, it has the same limitations as the X38 board and should feature the same PCI Express slot option.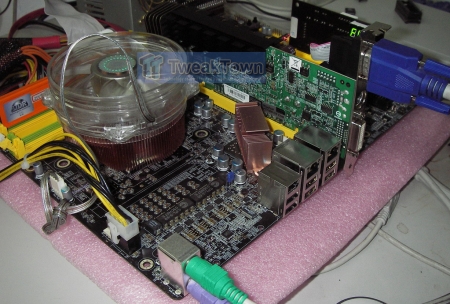 Expect to see this board from another vendor as well, although we're not obliged to say who as yet. The Lanparty X38 will be out sometime next month and we didn't get a release date of the RD790 board, but it shouldn't be too long after.