Nvidia MCP73 for Intel appears online
Single channel memory.
Published Tue, Jul 31 2007 1:36 AM CDT
|
Updated Tue, Nov 3 2020 12:39 PM CST
Nvidia's MCP73, or GeForce 7050 and 7025 has made an online appearance on a Chinese website called Yesky.com. They've got their hands on a board from a company called Topstar, not a brand we can say that we're familiar with. You might have notice that Nvidia is using the same models names here as they're doing for the MCP68 for AMD.
The MCP73 is a single chip solution and it will be available in three different versions, the MCP73PV or the GeForce 7050/nForce 630i, the MCP73S or the GeForce7025/nForce 630i and finally the MCP73V or the GeForce 7025/nForce 610i. The main difference here is that the most basic version doesn't support 1333MHz bus speed, DVI or HDCP and it also lacks Gigabit Ethernet and some USB ports and some RAID functionality.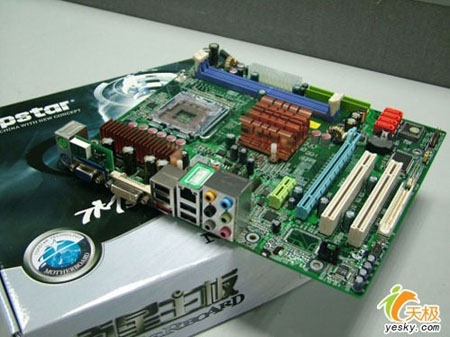 The other two version are mostly similar to each other with the GeForce 7050 gaining DDR2 800 memory support, as the 7025 only support DDR2 667, although neither chipset supports dual channel memory. The 7050 also gains HDMI support.
All three models have the GPU clocked at 333MHz and a discrete graphics card can be added via the x16 PCI Express slot. You can check out a feature table comparing the three models and some more pictures of the Topstar board by clicking the link below.
The board itself doesn't look that spectacular, although it has an interesting feature for a mATX board, a rear mounted Post 80 debug LED display just above the D-sub connector at the rear I/O. The MCP73 should be available some time in September
You can check out some more pictures and info
here