Palit goes HDMI on HD 2600 Pro
Retains one DVI and D-Sub.
Published Sat, Jun 30 2007 12:09 AM CDT
|
Updated Mon, Oct 19 2020 8:08 PM CDT
Palit has just announced its Radeon HD 2600Pro Sonic, which features a built in HDMI connector, making it easier to connect the card to HDMI enabled displays and HD TV's. The card retains one DVI and get a D-Sub connector as well, although it's missing a TV-out connector, but if your TV already has HDMI, why bother with analogue?
The card itself looks quite generic and it features a fairly standard cooler. The HD 2600Pro Sonic has 256MB of GDDR3 memory clocked at 1.4GHz and the GPU is clocked at 650MHz. This is the first Radeon HD 2600 Pro card to feature GDDR3 memory and it should allow for a performance boost against the competition.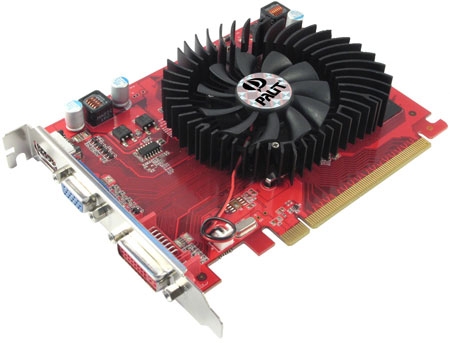 Palit also announced its HD 2600XT series which consists of the Sonic and the Super. The difference between the two being that the Super has 512MB of memory. The Palit HD 2600XT cards are clocked at 800MHz for the core and both cards have GDDR3 memory clocked at 1.6GHz. The Super version is one of the first GDDR3 cards with 512MB of memory to be announced, although it's unlikely to add a great deal of performance apart from in games with large textures.
You can find out more by visiting Palit's website by clicking
here