Intel is currently cooking up its new Rocket Lake family of CPUs for 2021, with the new Core i9-11900 spotted in a new benchmark run in engineering sample (ES) form.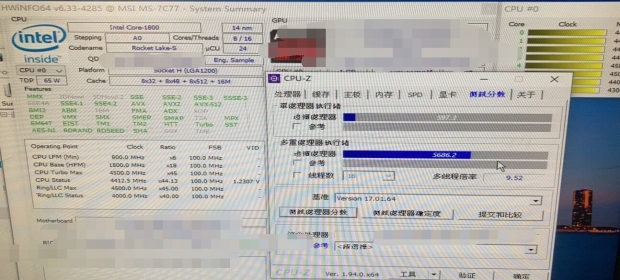 The new Intel Core i9-11900 processor was tested inside of an MSI Z490I motherboard, meaning the new 11th Gen Core CPUs will work on the current-gen 400-series motherboards. There will be 500-series motherboards launched, but you shouldn't need them to use the new Rocket Lake CPUs.
The chip has 8 cores and 16 threads with a base CPU clock of 1.8GHz, 1-core boost of 4.4GHz and all-core boost of 3.8GHz. This is much lower than the Core i9-11900K which offers the same 8C/16T but at a much higher base CPU clock of 3.5GHz, 1-core boost of 5.3GHz and all-core boost of 4.8GHz.
Intel has a big difference between the clock speeds while maintaining the same core count and 16MB cache, but has a radically different TDP between the chips. The Core i9-11900 has a 65W TDP while the Core i9-11900K has a 125W TDP and will venture somewhere up into the 250W range while the Core i9-11900 will sit at around 120-125W under full load stress.
What's interesting here is that the Core i9-11900 scored 582 points in some early single-core benchmarks, and 5262 points in multi-core tests. The Core i9-10900K at 5.3GHz has an average score of 584 for single-core performance which means the Core i9-11900 is offering some great IPC improvements here.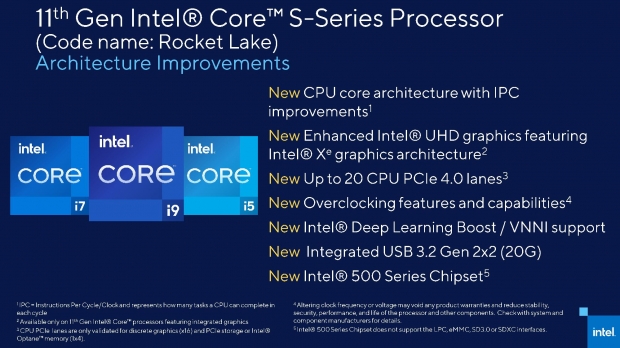 Rocket Lake desktop CPU features:
Increased Performance with new Cypress Cove core architecture

Up to 8 cores and 16 threads (Double Digit IPC Gains Over Skylake)

New Xe graphics architecture (Up To 50% higher Performance Than Gen9)

Increased DDR4 3200 MHz Memory Support

CPU PCIe 4.0 Lanes (Available on Z490 & Z590 Motherboards)

Enhanced Display (Integrated HDMI 2.0b, DP1.4a, HBR3)

Added x4 CPU PCIe Lanes = 20 Total CPU PCIe 4.0 Lanes

Enhanced Media (12 bit AV1/HVEC, E2E compression)

CPU Attached Storage or Intel Optane Memory

New Overclocking Features and Capabilities

USB Audio offload

Integrated CNVi & Wireless-AX

Integrated USB 3.2 Gen 2x2 (20G)

2.5Gb Ethernet Discrete LAN

Discrete Intel Thunderbolt 4 (USB4 Compliant)