SPARKLE Announce 8500GT W/ Temp Readout
Snazzy Lookin' 85GT.
Published
1 minute & 3 seconds read time
Sparkle have just kicked off a budget oriented GeForce 8500 GT graphics card with a clearly noticable difference. The new
Calibre P850LV
has a neatly positioned daughter card attached to it which displays real-time GPU and PCB temperatures via its 3bit digital tube display. You can switch between the two temperatures manually.
Sparkle knew not to stop there though, they also made the card stand out some more with its overclocked 650MHz core, 1300MHz shader and 1600MHz mem clock speeds, along with a unique looking cooling solution to boot.
I guess it just comes down to the price now (not yet known), being an entry-level card I cant imagine many people forking out much more for it over a standard 85GT, otherwise the more tempting option would be to simply move to a bigger/faster card no doubt.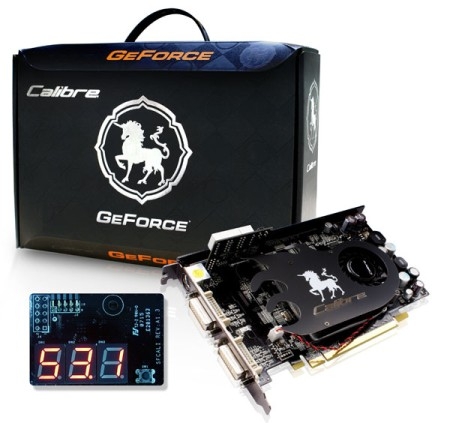 , Taiwan (Tech Messenger) -- SPARKLE Computer Co., Ltd., the professional VGA card manufacturer and supplier, today announces Calibre P850LV graphic card with elaborate designed daughter card to entry level market. Calibre P850LV graphic card brings cutting-edge DirectX 10 gaming and HD video playback experience to entry level users with lower prices.

Based on NVIDIA's next generation G86 architecture, the Calibre P850LV graphic card adopts innovative unified architecture, dynamically allocates processing power to geometry, vertex, physics, or pixel shading operations, delivering up to 2x the gaming performance of prior generation GPUs. Built upon technologies such as NVIDIA Lumenex Engine, providing support for DirectX 10 Shader Model 4.0, NVIDIA Quantum Effects technology for physics computation and GigaThread Technology for extreme processing efficiency in advanced, next generation shader programs.