Razer re-launches the Boomslang
2007 collector's edition.
Published Wed, Jun 13 2007 8:14 PM CDT
|
Updated Mon, Oct 19 2020 8:08 PM CDT
Remember the original Razer Boomslang mouse? If you don't, then you might not be all that excited about the 2007 collector's edition of the Boomslang, but Razer will have it out in time for DreamHack Summer this year. The Boomslang was the first real gaming mouse for FPS games, but it wasn't to everyones taste. It used a ball and was higly sensitive compared to other mice back then.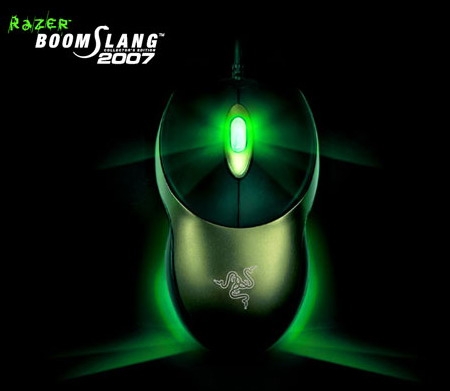 The 2007 collectors edition will be a limited run of 10,000 units and will feature a titanium finish and it will have a green under glow as well as a green scroll wheel. There's no mention if the collectors edition will use a ball or if it has been given an upgrade to a laser sensor. Nor has Razer released any price information.
At the same time there's a competition going where you can win 4,000 worth of Razer gear. You can find out more about the competition by clicking
here