Flight Simulator's new update for US landmarks is a Thanksgiving gift
Microsoft Flight Simulator gets an update, with high-fidelity points of interest in the US given more detail: White House included.
Published
1 minute & 59 seconds read time
Microsoft has just pushed out an update for Flight Simulator, with the new v1.11.5.0, World Update II: US update having a full set of release notes you can read in detail here.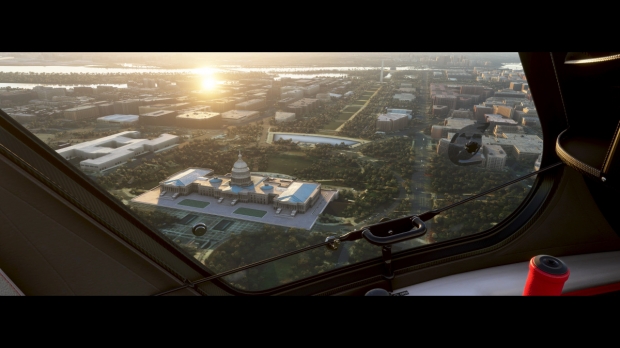 The developers have added detail to four US airports, and a sprawling list of US landmarks that include the White House, Mount Rushmore, Fort Knox, Hoover Dam, the Las Vegas Strip (at night), and much more. I've got the list for you down below.
We also have some performance and stability added to Flight Simulator, with optimization on photogrammetry loading, while offline air traffic are now "properly removed at a long distance. This caused a performance degradation over time".
Airports
KATL - Atlanta International

KFHR - Friday Harbor

KDFW - Dallas / Fort Worth International Airport (DFW)

KSWF - New York Stewart International Airport
Points of Interest
Chimney Rock

Crazy Horse Memorial

Pilgrim Monument, Provincetown MA

Fort Jefferson

Washington Monument, Washington DC

Capitol, Washington DC

White House, Washington DC

Wright Brothers National Memorial

Mount Rushmore

Biltmore Estate

Devils Tower

New River Gorge Bridge

United States National Arboretum

Bixby Creek Bridge

Chesapeake Bay Bridge

Sunshine Skyway Bridge

Mackinac Bridge

Navajo Bridge

Astoria-Megler Bridge

U.S. Grant Bridge

Lowry Avenue Bridge

Lewis and Clark Bridge

The Sault Ste. Marie International Bridge

Fort Knox

Monument Rocks National Natural

Coronado Heights Castle

Ellis County Courthouse

Monument Valley

Yosemite El Capitan

Cliff Palace, Mesa Verde, Colorado

Shiprock, New Mexico

Haystack Rock at Canon, Oregon

Half Dome, Yosemite

Dworshak Dam

Hoover Dam

Oroville Dam

Alcatraz (water tower and lighthouse only)

Fort McHenry, Baltimore

Rainbow Bridge, Niagara Falls

Glen Canyon Dam

Las Vegas Strip (Night)

Confederation Bridge

Johnson Space Center Houston (visitor's center)

Kennedy Space Center Florida (visitors center)

Pearl Harbor, Hawaii (memorial site)

Mauna Kea Observatory, Hawaii

National Radio Astronomy Observatory

Gulf of Mexico, Oil Rigs

Airport Graveyard, Tucson
Related Tags