As we prepare and setup our booth at Computex Taipei 2007, we were joined by our friend Coolaler who did some initial LN2 overclocking at our booth in Hall 1. Using a GIGABYTE P35 DDR-3 board and Intel Core 2 Duo 6850 processor, we managed an initial OC of 5.4GHz (600 x 9) at around -125c. Keep in mind, thi was done in a less than ideal environment - there is no air con on at the moment and we expect things to only get better throughout the week.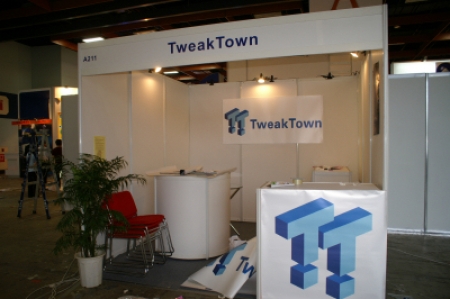 This resulted in a high detail 3DMark01 run of around 85,000 with stock clocked HD 2900 XT in Crossfire mode, which ranks us about 4th for world records, even at this early time. Tomorrow and throughout the week we will tweak the system (no OC to VGA or RAM so far) and try and break some records as we push things further. We are rock stable at 600MHz FSB, so after some tender love and care, we should be able to crank out around 5.6GHz.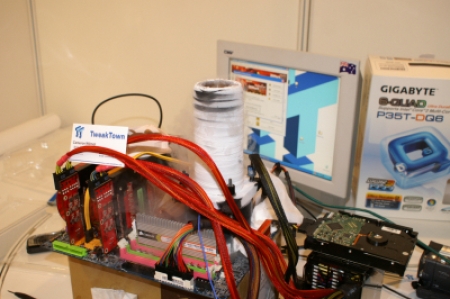 It is fun times and even though Computex has not officially started yet (no air con in Hall 1!!!), things are looking good. Our coverage of the show will start tomorrow morning at 9am when the show opens along with a big surprise also at that time. Lars has already spotted plenty Intel X38 and AMD RD790 boards and we will be reporting on them soon.
For now it's time to prepare for our Media Party - busy, busy, busy!