I thought I was just unlucky the first time but when something happens two times in the exact same fashion, you just got to check into it a little more.
System is Vista Ultimate 32-bit with RAID 10 on Intel ICH8R chipset. A couple of weeks ago I tried running a .mov file using Apple QuickTime software (latest version) and that is when things started to go downhill. The file seemed very slow to load and eventually QuickTime crashed after a lot of persuasion. Once QuickTime was closed, I was notified of a RAID error through the Intel Matrix Storage Console but the same thing will happen if you reboot during the lockup as well.
Thinking the worst, I promptly went about getting the affected drive replaced, naturally thinking it was dead. I got the drive replaced without any issues from the friendly chaps at Seagate, plugged it in and rebuilt the array without any issues and with everything back to normal. Just recently the exact same event occurred and I knew the chances of that exact same set of occurrences happening was extremely rare.
After some assistance from one of my mates (Google), I discovered that there is an issue with QuickTime and Windows Vista (32-bit and 64-bit versions). Whenever you attempt to play a QuickTime movie file that is on the RAID array, it will crash QuickTime and leave you thinking you have a dead drive that needs to be replaced. In actual fact, once you have Intel Matrix Storage Console installed and in Advanced View, you can just mark the bad drive as normal and then the array will automatically rebuild - if you are running RAID with redundancy, it will say "Data redundancy is being restored". If you are running RAID 0, I really don't know what would happen - you might lose all your data.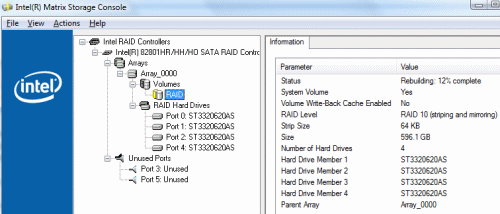 At this time there are no fixes and even after updating to the very latest version of QuickTime, the same issue occurs and that is also with all the latest updates from Windows Update.
Dammit, Apple and Microsoft pull your fingers out and get your act together - you are causing a nightmare for users (and me!) and probably hard drive companies with users thinking their drives are dead! Fix it!