Today House House and iam8bit announce the Untitled Goose Game Lovely Edition, a limited physical boxed edition of the infamous honkin' indie.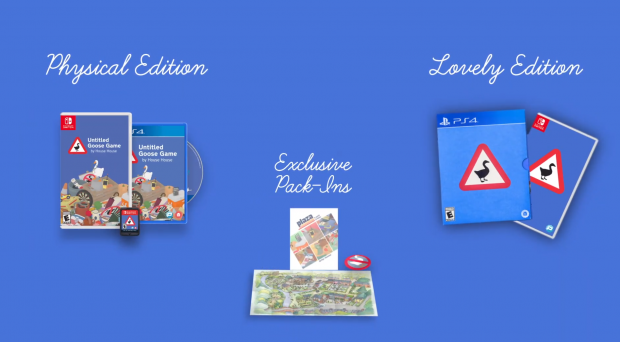 After tons of acclaim, sales, and awards, House House's beloved Untitled Goose Game is coming to physical retail stores as a boxed indie. The game releases on September 29 and will be sold as a boxed edition on PS4 ($29.99) and Nintendo Switch ($34.99), complete with a 24-page physical booklet, a poster, and a special anti-goose sticker.
The eco-friendly Lovely Edition is exclusive to iam8bit and is priced the same as the other SKU.
House House is also releasing a limited edition vinyl of the Untitled Goose Game's serene soundtrack for $29.99, and is likewise shipped in 100% recycled packaging.
Check below for more info on the Untitled Goose Game boxed editions:
PlayStation 4 version
Nintendo Switch version