RTX 2080 SUPER for $699 = $3000 TITAN V performance teased
What used to cost you $3000 will cost just $699, with the RTX 2080 SUPER offering TITAN V performance.

Published Sun, Jul 21 2019 11:30 PM CDT
|
Updated Tue, Nov 3 2020 11:48 AM CST
NVIDIA is about to unleash its GeForce RTX 2080 SUPER graphics card, the kicker to the RTX 2080 which will deliver more performance -- but to grab those headlines, leaks today suggest the new card will beat the TITAN V.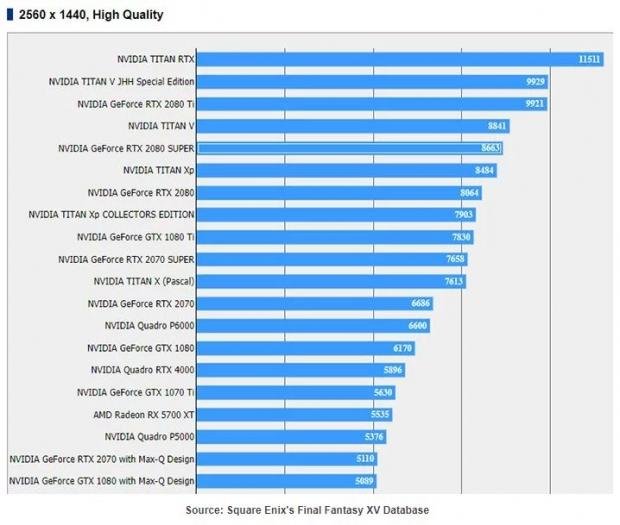 In some leaked benchmarks the new RTX 2080 SUPER offers performance that is above the TITAN Xp and just under teh TITAN V, which launched for $3000. The tests are in the Final Fantasy XV database, benchmarking the game at 1440p with High Quality settings. The RTX 2080 Ti is still a beast, and man that TITAN RTX just leaps ahead.
The new RTX 2080 SUPER launches with its 8GB of GDDR6 overclocked to 15.5Gbps, up from the 14Gbps on the original RTX 2080. NVIDIA has already launched its RTX 2060 SUPER (my review here) and the RTX 2070 SUPER (my review here). The most exciting of the three definitely has to be the RTX 2060 SUPER with its increased VRAM (8GB from 6GB and faster bandwidth @ 14Gbps) but the 15.5Gbps on the new RTX 2080 SUPER will make for some super testing.
Related Tags