Today the new Valve Index VR headset was revealed, showing off hardware boosts in HMD tech, base stations, and controllers.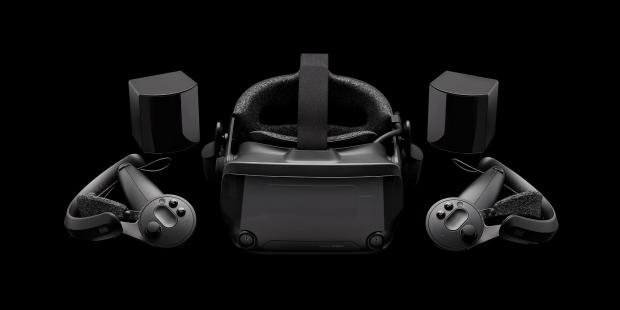 The new PC-powered Valve Index offers a nice performance leap over gen one HTC Vive headsets. Internal specs have been upgraded, including a panel boost to dual 1440 x 1600 resolution LCDs, up from the original Vive's 2160 x 1200 resolution. Valve has taken great efforts to reduce VR sickness by significantly reducing the headset's lighting illumination period by five-fold over previous Vive headsets, dropping it down to as low as 0.330ms and "allowing imagery to remain just as sharp when your head is in motion as when you're standing still."
The Index can maintain an explosive 144Hz frame rate, but Valve says this refresh rate is experimental and the headset will mainly run at 120Hz in newer games and 90Hz in older Vive titles.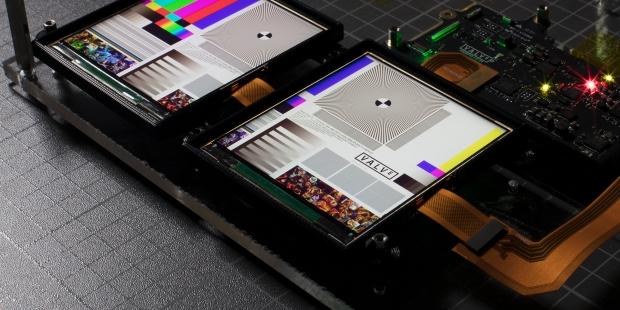 Thanks to new higher-end adjustments in both optics and lens tech, the Index's FOV can support 130-degree FOVs, up 20 degrees from the Vive. Valve says its new canted optics and dual-element lenses make this possible.
Valve Index Pricing
Valve Index Headset: $499.99

2x Knuckle Controllers: $279.99

1x Base Station: $149.99 (two needed for room-scale VR)

VR Headset + Controllers: $749.99

VR Headset + Controllers + 2 Base Stations: $999.99
Audio is built-in this time around. The earphones aren't pressed onto the ear themselves, creating a kind of near spatial audio while maintaining comfort. Two microphones are also built into the headset.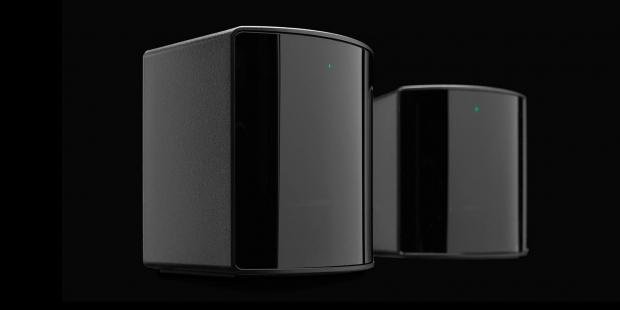 Like the Vive, full room-scale immersion is facilitated via base stations. The Index ushers in a new era of next-generation tracking stations. The new Base Station 2.0 boosts range and FOV capabilities, and two of them increases play space tracking by a whopping 400%. Hooking up four stations allows full tracking in a space up to 32 square feet.
Valve is also rolling out new VR knuckles-style controllers with massively improved feedback, comfort, and overall ease-of-use. These new peripherals sport a built-in analog stick, a smaller but more intuitive touchpad, and tactically-placed buttons and triggers.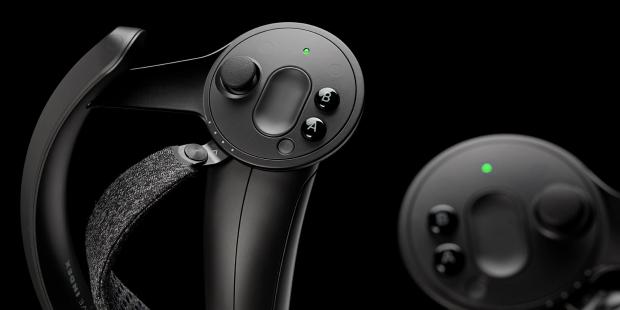 The company confirms that the new hardware is backward compatible with existing headsets and peripherals, allowing existing owners to mix and match--With the exception of the Base Station 2.0 tracking systems.
That means the Valve Index can use the HTC Valve's original base stations and controllers, and the Index's controllers also work on Vive as well as the original Vive's tracking stations. The new base stations are only compatible with hardware that uses the new 2.0 tracking system, including the Vive Pro and Valve Index.
The headset is also moddable and has potential for unique customizations. "A front expansion slot, plus cameras with available sample code for the computer vision community, our headset is ready for tinkerers and makers," reads the description.
Despite the upgrades, the Index doesn't require an immensely high-end PC. It matches the Vive's and Oculus Rift's original minimum specs: a dual-core CPU with hyper-threading, an NVIDIA GeForce GTX 970 or AMD Radeon RX 480 graphics card, 8GB of RAM, and Windows 10. Recommended specs jump a bit from the Vive's NVIDIA GeForce GTX 1060 to a GTX 1070, but you can skate away with quad-core processor.
The Valve Index costs a cool $499 on its own, but the full kit with two controllers, two base stations, and the headset is $999. Valve will sell each pieces separate a la carte. Pre-orders are now up, and Valve expects to start shipping on June 28.
Check below for technical specifications and a list of VR games that'll support the Valve Index's new upgrades: