SEGA's survey dictates 'the next steps' for many SEGA titles
SEGA has issued out a survey to fans that will determine 'the next steps' of some of their major franchises.
Published
0 minutes & 56 seconds read time
SEGA is gathering some feedback from its community through a brand new survey that will help determine "the next steps" for some of the companies most popular titles.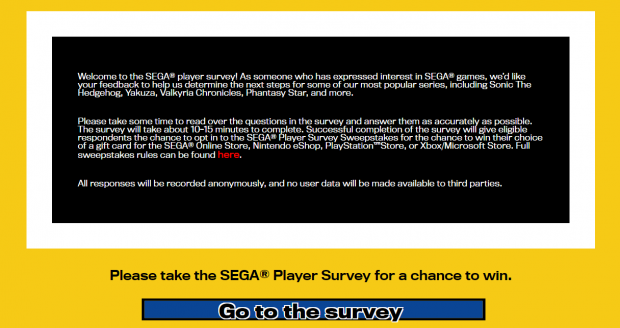 The survey consists of many practical questions that SEGA will be taking into account to determine which franchise should have the most time thrown into for future development. An example of the one of the questions is; "Which games do you want to see more new content for?". SEGA then proceeds to give selectable options for franchises such as; Sonic the Hedgehog, Yakuza, Super Monkey Ball, Bayonetta, Virtua Fighter, Total War and many more.
Follow-up questions that are included within the survey regard which titles fans would want to downloadable content made for, and which franchise could do with a remaster or a sequel. Other questions include what format (downloadable or physical) do gamers usually purchase their games in, and how often collectors editions are bought. SEGA will be taking the data from this survey on-board and it will certainly influence what the Japanese developer will be spending their time on in the future. If you are interested in giving some answers to SEGA, you can give some answers to SEGA here.
Related Tags