Left 4 Dead devs reveal new zombie FPS Back 4 Blood
'We are going back to our roots and at the same time innovating on them.'

Published Thu, Mar 14 2019 5:11 PM CDT
|
Updated Tue, Nov 3 2020 11:49 AM CST
The developers behind the original Left 4 Dead are making a new spiritual successor, and they're committed to one-upping L4D in every way.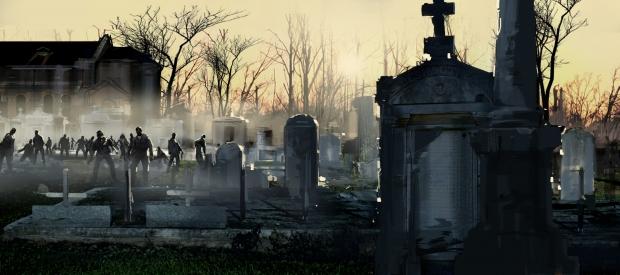 (Note: This is L4D2 concept art, not art for Back 4 Blood)
Today Turtle Rock Studios announced Back 4 Blood, a new shooter with strong ties to the studio's popular 2008 zombie survival shooter. Back 4 Blood isn't a direct sequel to the Left 4 Dead games, and is instead set in a brand new AAA IP established alongside Warner Bros. Interactive. The game sounds very close to L4D, sporting co-op multiplayer and a campaign mode, and will undoubtedly build upon Turtle Rocks' FPS prowess to create something both recognizable and brand new.
"Back 4 Blood is designed from the ground-up as an original, premium title and marries the best of what made the co-op zombie shooter so successful with new features and state-of-the-art technology," reads the announcement.
Back 4 Blood is in very, very early stages of development. No footage, assets, screenshots, or even key art were released for the reveal, indicating Turtle Rock's deal with WB was just freshly inked and there's probably not much to show.
Turtle Rock is taking Back 4 Blood very seriously. Armed with new high-end technologies like a powerful game engine, Turtle Rock promises to infuse brand new and exciting game mechanics into the old-school zombie-blasting action L4D is known for.
In fact, the studio says Back 4 Blood will be better than anything they've ever done.
"We are going back to our roots and at the same time innovating on them. We know we have some big shoes to fill, but we're going all out to surpass everything we've done before," reads the game's FAQ page.
"We are not resting on any past laurels. Our goal is to take all we've learned and push forward. We know that's a tall order," said Phil Robb, Co-founder and Creative Director, Turtle Rock Studios.
"We're growing the team considerably because we're stepping up to the biggest challenge in this studio's history. We know this title has to stand out and we fully intend to make that happen."
Back 4 Blood will undoubtedly be monetized in some form (as most WB Interactive games are), but the team says microtransactions will be done in a way the community agrees on.
No release date or window was revealed and Back 4 Blood will release on PS4, Xbox One, and PC when it's ready. Check below for the full FAQ for more information:
What is Back 4 Blood?

Back 4 Blood is a co-op zombie FPS with new features we aren't ready to talk about just yet, but keep your eyes peeled for all news on our official Discord 566.

How are you planning to succeed against recent and upcoming AAA zombie and co-op shooters?

We are going back to our roots and at the same time innovating on them. We know we have some big shoes to fill, but we're going all out to surpass everything we've done before

What's the story / lore surrounding this game?

We will release more information on that as time goes on. Right now we are just excited to tell our community what we have been working on!

What platforms will Back 4 Blood be on?

We are currently focusing on PC, XBOX One and PlayStation 4. More possibilities aren't out of the question though.

What happened to your other game / partnership?

We can't get into details but both parties decided to move on.

How much is it going to cost?

We haven't locked down a price point yet, but the game will be a premium, AAA title.

Will this game have microtransactions?

Right now, we're focusing on making the best, most fun and exciting game we can. We'll figure out the post-launch stuff later, but if we do have paid post-launch content, like microtransactions, we want to do something that the community feels good about.

Is this Left 4 Dead 3?!

No. Back 4 Blood is our own brand new, original IP. You'll be able to shoot up a lot of zombies like in Left 4 Dead, but there's a whole lot of new stuff in Back 4 Blood which makes it unique.

When is the release date?

We don't have a date yet. Keep an eye on our official Discord channel for all news. 566

Is this game going to be a Battle Royale game?

No.

Will there be PVP?

Yes!

Will there be a campaign?

Yes!

Where is Evolve 2? How dare you!

2K owns the rights to Evolve and our contract to work on the game expired back in 2016. Please contact 2K for all Evolve related questions.

Will there be founders packs or pre-order deals?

It's still early in development and our number one goal is to make a great, complete, fun game so we are focusing on that.

When will the community get to play?

We don't have a date yet. Keep an eye on our official Discord channel for all news.

With so little to tell us, why are you announcing now?

Back 4 Blood is a hugely ambitious project and we need the best of the best to come join us. As an independent studio, we have to announce early to let our industry know we're up to something big. If you are in the video game business and you are looking to make real contributions to a brand new AAA IP developed in Southern California, check us out. Our job listings are here with more to come in the next year: https://www.turtlerockstudios.com/careers.

We also want to hear from you all about what you think about the games we've made in the past and what you are looking forward to in the future. We love getting to know and interact with our community and the sooner we can do that, the better!
Related Tags