How to turn on Facebook Messenger 'Dark Mode' feature
Facebook Messenger has released a new 'Dark Mode' for Messenger and here is how to turn it on.

Published Wed, Mar 6 2019 2:00 AM CST
|
Updated Tue, Nov 3 2020 11:49 AM CST
Facebook has followed in the steps of Twitter as the company has issued out a brand new 'Dark Mode' to its global communications app 'Messenger'. The new mode can be activated by any user and here is how.
Facebook has snuck in the 'Dark Mode' feature in the latest update of the Messenger app, the new feature can be activated by users that are both on Android and iOS devices. Here is how to do it; all you have to do is send the crescent 'moon' emoji in a chat with either yourself or someone else and the app will respond with "You found Dark Mode!" Below will be a short-cut for turning dark mode on in the settings, selecting that option you take you to the Messenger settings where you will have to select that you want dark mode to be on.
After these steps are done the app should appear black. Some users have reported the app not converting straight away, but this can be fixed with a quick restart of either the phone or the app. Facebook brought this new feature to Messenger as apart of the Messenger 4 updates, which detailed the dark mode in the 'personal' section. Other aspects of the update can be viewed here. Facebook commented on the roll out of the 'dark mode' in a blogpost, saying "We're over the moon to share that dark mode for Messenger is finally making its debut. One of the most highly anticipated features from the launch of Messenger 4, dark mode is a sleek new look that goes easy on the eyes by switching the background from white to black."
They continued; "As many may have discovered, dark mode can be accessed through a hidden, limited-time only experience. Simply send a crescent moon emoji - in any Messenger chat to unlock the setting and prompt to turn on dark mode. Messenger's dark mode provides lower brightness while maintaining contrast and vibrancy. Dark mode cuts down the glare from your phone for use in low light situations, so you can use the Messenger features you love no matter when or where you are. Dark mode is currently accessible to all Messenger users around the world on the latest versions of iOS and Android by sending the crescent moon emoji, and will be fully rolled out in settings in the coming weeks."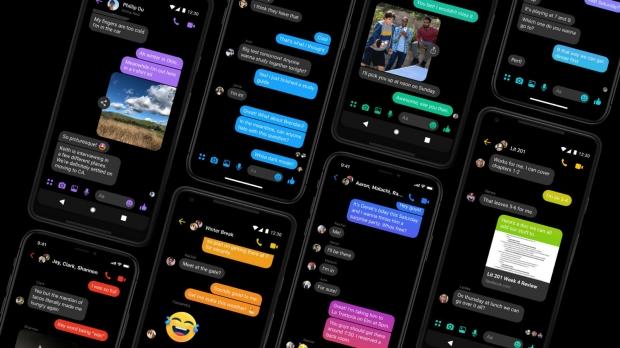 Related Tags